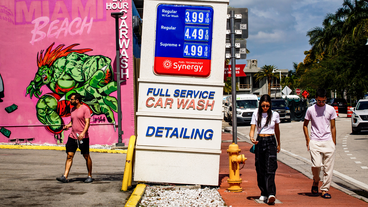 StoryGraph Biggest Story 2022-03-10 -- the biden administration (17), ukrainian president volodymyr (16), president joe biden (14), war ukraine (13), invasion ukraine (13)
---

---

---

---

---
The US ban on Russian imports has a modest effect, but what comes next matters more.
---

---

---

---

---

---

---

---

---
March 10, 2022 Russia-Ukraine news

Russia bombed a maternity and children's hospital in Mariupol, southern Ukraine, city officials said Wednesday. Ukraine's President Zelensky said the attack was "proof of a genocide." Follow here for live news updates from on the ground in Ukraine.
---

---
Ukrainian President Volodymyr Zelenskyy says Ukrainians 'will continue fighting for our land, whatever the cost.'
---

---

---

---

---

---

---

---

---

---

---

---

---

---

---

---

---

---

---

---

---
This story was constructed with the SHARI Process:
The StoryGraph Toolkit extracted URIs from the biggest story of the day from the StoryGraph service
Hypercane performed the following steps:

It accepted the list of original resource URIs from the output of the StoryGraph Toolkit, and queried the Memento Aggregator to find as many mementos as possible
For resources that were not already mementos, it submitted them to web archives with ArchiveNow
It analyzed all mementos to automatically discover the most frequent sumgrams and named entities present in the overall story
It analyzed all images in these mementos to automatically select the best image for the overall story
It then formatted the data for the story based on all of this input

Raintale took the input from Hypercane and rendered the final product with information supplied by MementoEmbed