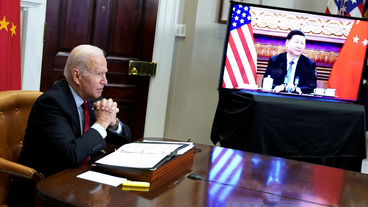 StoryGraph Biggest Story 2022-02-25 -- president joe biden (15), russian forces (11), court appeals (11), invasion ukraine (10), district court (10)
---

---

---

---

---
President Biden's Supreme Court nominee is a conventionally qualified judge with a strong background in criminal justice reform.
---

---

---

---

---

---

---

---
One way Putin's ill-considered invasion of Ukraine will likely backfire

Lt. Gen. Ben Hodges (ret.), former commanding general of the U.S. Army in Europe, points out that while concerns about NATO encroachment by have been a false pretense by Vladimir Putin to invade Ukraine, he's likely to end up with a much stronger NATO and U.S. military presence on his borders now that he's revealed his power madness. 
---

---

---

---

---

---

---

---

---
Analysis: Why Joe Biden picked Ketanji Brown Jackson for the Supreme Court

President Joe Biden's decision to nominate Ketanji Brown Jackson to the Supreme Court, as CNN first reported, kills two birds with one stone: It satisfies -- and Biden hopes energizes -- liberals while also giving Senate Democrats a nominee they can confirm without much fanfare (and maybe even with a few Republican votes).
---

---

---

---

---

---

---

---

---

---

---

---

---

---

---

---

---

---

---

---
Gen. McCaffrey: Trump, Pompeo's support of 'murderous thug' Putin endangers America

Former President Donald Trump and former U.S. Secretary of State Mike Pompeo praised Russian President Vladimir Putin's strategy in Ukraine. Pompeo, in a February 18, 2022 interview, said Putin is "very shrewd, very capable. I have enormous respect for him" and referred to the Russian president as a "elegantly sophisticated counterpart." Trump referred to Putin's strategy in Ukraine as "genius," and wished Putin's "peacekeeper" forces could be used on the United States' Southern border. 
---

---

---

---

---

---

---

---

---