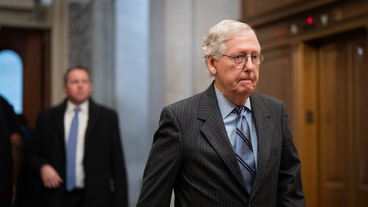 StoryGraph Biggest Story 2021-12-08 -- ease passage of debt limit hike (8), raising debt (5), enough gop support (5), adam kinzinger (5), vote debt (4)
---

---

---
Schumer tees up key Thursday vote on debt deal

Senate Majority Leader Charles Schumer (D-N.Y.) on Tuesday night teed up a key vote on a deal struck with Senate Minority Leader Mitch McConnell (R-Ky.) to raise the debt ceiling with only Democratic votes.
---
House approves bill to ease passage of debt limit hike

The House late Tuesday passed legislation that paves the way for Congress to raise the debt limit in the coming days — and prevent an unprecedented federal default — by allowing Democrats to circumvent a GOP filibuster in the Senate.
---

---
House passes new debt ceiling plan after McConnell cuts deal with Democrats

Senate Majority Leader Chuck Schumer and Senate Minority Leader Mitch McConnell have reached an agreement to create a one-time process that would let Democrats raise the debt ceiling on their votes alone, a deal that underscores the lengths the GOP leader will go to avoid a damaging default without Republican support to increase the national borrowing limit.
---

---

---

---
This story was constructed with the SHARI Process:
The StoryGraph Toolkit extracted URIs from the biggest story of the day from the StoryGraph service
Hypercane performed the following steps:

It accepted the list of original resource URIs from the output of the StoryGraph Toolkit, and queried the Memento Aggregator to find as many mementos as possible
For resources that were not already mementos, it submitted them to web archives with ArchiveNow
It analyzed all mementos to automatically discover the most frequent sumgrams and named entities present in the overall story
It analyzed all images in these mementos to automatically select the best image for the overall story
It then formatted the data for the story based on all of this input

Raintale took the input from Hypercane and rendered the final product with information supplied by MementoEmbed