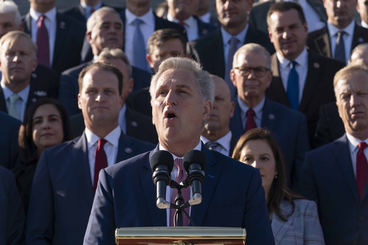 StoryGraph Biggest Story 2021-11-18 -- rep paul (15), rep alexandria (11), house minority leader kevin mccarthy (11), president joe biden (7), anime video (7)
---

---

---

---

---

---

---

---

---

---

---
Analysis | The GOP's bad defense of Paul Gosar

After radio silence, party leaders have spoken as if Gosar expressed contrition for his video depicting him killing Alexandria Ocasio-Cortez. Gosar has served notice he's anything but contrite.
---

---

---

---

---

---

---

---

---
For the GOP now, all roads lead to Donald Trump

Meet the Trump 2022 caucus, in which all that matters is whether a) you are willing to say the 2020 election was rigged, b) you voted against impeachment, and c) anything Donald Trump is against (like the infrastructure bill), you are against, too.
---

---
This story was constructed with the SHARI Process:
The StoryGraph Toolkit extracted URIs from the biggest story of the day from the StoryGraph service
Hypercane performed the following steps:

It accepted the list of original resource URIs from the output of the StoryGraph Toolkit, and queried the Memento Aggregator to find as many mementos as possible
For resources that were not already mementos, it submitted them to web archives with ArchiveNow
It analyzed all mementos to automatically discover the most frequent sumgrams and named entities present in the overall story
It analyzed all images in these mementos to automatically select the best image for the overall story
It then formatted the data for the story based on all of this input

Raintale took the input from Hypercane and rendered the final product with information supplied by MementoEmbed