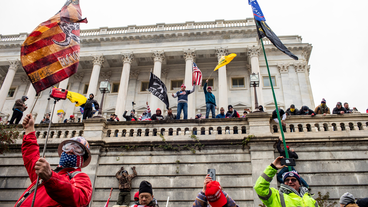 StoryGraph Biggest Story 2021-11-13 -- steve bannon (13), executive privilege (11), attorney general merrick garland (10), a federal grand jury (10), investigating 6 (9)
---

---

---

---

---

---

---

---
Analysis: Bannon's indictment may mark a turning point

The indictment of former President Donald Trump's chief strategist Steve Bannon on charges of criminal contempt of Congress on Friday sent shock waves through Washington -- serving as a powerful warning to other potential witnesses that there will be consequences for defying the House select committee investigating the January 6 attack on the US Capitol.
---
What Bannon indictment means for Jan. 6 investigation

Former Trump adviser Steve Bannon has been indicted on two charges of contempt of Congress after failing to comply with a subpoena from the House Select Committee investigating Jan 6th insurrection. Glenn Kirschner and Molly Jong-Fast break down what comes next.
---

---
Menace Enters the Republican Mainstream

Threats of violence have become commonplace among a significant part of the party, as historians and those who study democracy warn of a dark shift in American politics.
---

---

---

---

---

---

---

---
This story was constructed with the SHARI Process:
The StoryGraph Toolkit extracted URIs from the biggest story of the day from the StoryGraph service
Hypercane performed the following steps:

It accepted the list of original resource URIs from the output of the StoryGraph Toolkit, and queried the Memento Aggregator to find as many mementos as possible
For resources that were not already mementos, it submitted them to web archives with ArchiveNow
It analyzed all mementos to automatically discover the most frequent sumgrams and named entities present in the overall story
It analyzed all images in these mementos to automatically select the best image for the overall story
It then formatted the data for the story based on all of this input

Raintale took the input from Hypercane and rendered the final product with information supplied by MementoEmbed