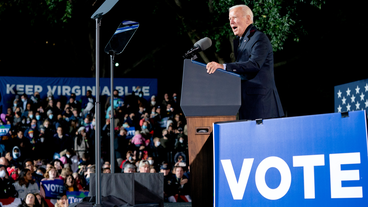 StoryGraph Biggest Story 2021-11-04 -- glenn youngkin (25), terry mcauliffe (24), new jersey (22), phil murphy (16), gov phil (16)
---

---

---

---

---

---

---

---

---

---

---

---
Opinion: Republicans have a big problem

As they celebrate their election victories, Republicans should consider they may not always have the Democrats' circular firing squad to help them at the polls, writes Frida Ghitis. Indeed, if Democrats learn the right lessons from this experience, they have a chance of pushing forward. For Republicans, the problem is far more complicated. It seems they can win if Donald Trump is kept barely visible. But that task may well prove beyond their reach.
---

---

---

---

---
Five takeaways from a grim night for Democrats

Republican Glenn Youngkin won a stunning victory in Virginia on Tuesday, snatching the governor's mansion away from Democrats in a state that President Biden won by 10 points just a year ago.
---

---

---

---
Six takeaways from a surprising Election Night

Tuesday's election results dealt Democrats what was almost universally perceived as a bad hand, with Republicans winning a marquee governor's race in Virginia and coming close in a New Jersey gubernatorial contest that no one anticipated being close.
---

---

---

---

---

---

---
Analysis: Donald Trump fever may be breaking

In Tuesday's elections, Republican candidates surged in blue states, cities rejected major police reform and suburban voters showed their independence. The major takeaways? This is a more moderate and centrist country than activists on either the right or left let on, and Donald Trump fever may be breaking.
---

---

---

---

---

---
This story was constructed with the SHARI Process:
The StoryGraph Toolkit extracted URIs from the biggest story of the day from the StoryGraph service
Hypercane performed the following steps:

It accepted the list of original resource URIs from the output of the StoryGraph Toolkit, and queried the Memento Aggregator to find as many mementos as possible
For resources that were not already mementos, it submitted them to web archives with ArchiveNow
It analyzed all mementos to automatically discover the most frequent sumgrams and named entities present in the overall story
It analyzed all images in these mementos to automatically select the best image for the overall story
It then formatted the data for the story based on all of this input

Raintale took the input from Hypercane and rendered the final product with information supplied by MementoEmbed