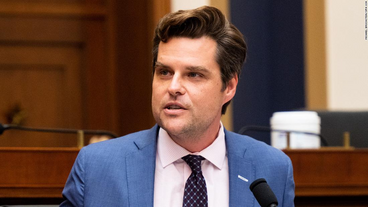 StoryGraph Biggest Story 2021-04-01 -- federal sex trafficking (8), with matt gaetz's (7), investigation gaetz (7), tucker carlson (6), the justice department (6)
---

---
Gaetz showed nude photos of women he said he'd slept with to lawmakers, sources tell CNN

Rep. Matt Gaetz, the Florida Republican being investigated by the Justice Department over sex trafficking allegations, made a name for himself when he arrived on Capitol Hill as a conservative firebrand on TV and staunch defender of then-President Donald Trump. Behind the scenes, Gaetz gained a reputation in Congress over his relationships with women and bragging about his sexual escapades to his colleagues, multiple sources told CNN.
---

---

---
Analysis: The one *big* problem with Matt Gaetz's explanation

In response to stunning New York Times reporting that the Justice Department is investigating a possible sexual relationship between Matt Gaetz and a 17-year-old girl, the Florida Republican congressman vehemently denied the accusation and told a broader story of intrigue involving himself and his father.
---

---

---

---
This story was constructed with the SHARI Process:
The StoryGraph Toolkit extracted URIs from the biggest story of the day from the StoryGraph service
Hypercane performed the following steps:

It accepted the list of original resource URIs from the output of the StoryGraph Toolkit, and queried the Memento Aggregator to find as many mementos as possible
For resources that were not already mementos, it submitted them to web archives with ArchiveNow
It analyzed all mementos to automatically discover the most frequent sumgrams and named entities present in the overall story
It analyzed all images in these mementos to automatically select the best image for the overall story
It then formatted the data for the story based on all of this input

Raintale took the input from Hypercane and rendered the final product with information supplied by MementoEmbed