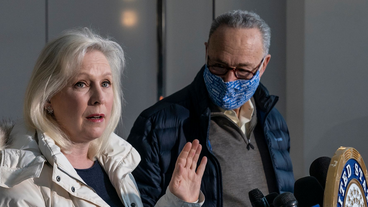 StoryGraph Biggest Story 2021-03-13 -- to the multiple credible sexual harassment and misconduct allegations (8), andrew cuomo (8), new york attorney general letitia james (7), cuomo said (7), cuomo resign (7)
---

---

---
Schumer joins congressional Democrats' call for Cuomo to resign

Senate Majority Leader Chuck Schumer on Friday afternoon joined a majority of New York congressional Democrats, including Sen. Kirsten Gillibrand, in calling for Democratic Gov. Andrew Cuomo to resign in the wake of sexual harassment allegations and his handling of Covid-19 deaths at state nursing homes.
---
Analysis: Andrew Cuomo's chances of staying in office just went *way* down

A coordinated call from the majority of New York's Democratic congressional delegation for Andrew Cuomo to resign in the face of sexual harassment and bullying claims as well as questions surrounding nursing home deaths from Covid-19 badly imperils the New York governor's chances of surviving this series of growing scandals.
---

---

---
Analysis: A defiant Cuomo stands increasingly alone

Embattled New York Gov. Andrew Cuomo is standing increasingly alone as he clings to power, turning himself into the victim Friday in the face of overwhelming Democratic calls for him to step aside instead of engaging in the kind of self-reflection this moment demands.
---
Governor Andrew Cuomo accuser Charlotte Bennett speaks out - CNN Video

Charlotte Bennett, a former aide who has accused Governor Andrew Cuomo of sexual harassment, spoke to CBS host Norah O'Donnell about her allegations. In his initial response to Bennett's story in the New York Times last week, Cuomo said he believed he had been acting as a mentor and had "never made advances toward Ms. Bennett, nor did I ever intend to act in any way that was inappropriate."
---
This story was constructed with the SHARI Process:
The StoryGraph Toolkit extracted URIs from the biggest story of the day from the StoryGraph service
Hypercane performed the following steps:

It accepted the list of original resource URIs from the output of the StoryGraph Toolkit, and queried the Memento Aggregator to find as many mementos as possible
For resources that were not already mementos, it submitted them to web archives with ArchiveNow
It analyzed all mementos to automatically discover the most frequent sumgrams and named entities present in the overall story
It analyzed all images in these mementos to automatically select the best image for the overall story
It then formatted the data for the story based on all of this input

Raintale took the input from Hypercane and rendered the final product with information supplied by MementoEmbed