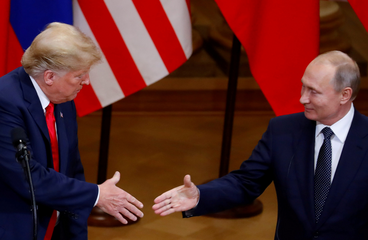 StoryGraph Biggest Story 2020-12-20 -- voting machines (7), secretary of state mike pompeo (5), whether donald trump accepts joe biden's victory is a moot (4), to his bogus election fraud claims (4), suspended flights to the united kingdom after revelations that a (4)
---

---

---

---

---

---

---

---

---
Malcolm Nance: 'Russia doesn't do things just because a door is open. They have been planning this attack for years.'

Secretary of State Mike Pompeo confirms that Russia is most likely behind a wide-ranging cyberattack targeting a number of federal government agencies and private companies. Meanwhile, President Trump contradicted his own intel officials by attempting to blame China for the security breach despite a lack of evidence. MSNBC's host of "American Voices" Alicia Menendez speaks with Malcolm Nance, MSNBC Terrorism Analyst and Author of "The Plot to Betray America" and NBC News National Political Reporter Josh Lederman.
---

---
Trump tweet downplays Russia hack, implicates China

President Trump took to twitter to comment for the first time on a cyber hack that attacked the U.S. government, saying the hack is "in the Fake News Media than in actuality." The president implicates China is responsible, contradicting Secretary of State Mike Pompeo, who says Russia is behind it.
---
This story was constructed with the SHARI Process:
The StoryGraph Toolkit extracted URIs from the biggest story of the day from the StoryGraph service
Hypercane performed the following steps:

It accepted the list of original resource URIs from the output of the StoryGraph Toolkit, and queried the Memento Aggregator to find as many mementos as possible
For resources that were not already mementos, it submitted them to web archives with ArchiveNow
It analyzed all mementos to automatically discover the most frequent sumgrams and named entities present in the overall story
It analyzed all images in these mementos to automatically select the best image for the overall story
It then formatted the data for the story based on all of this input

Raintale took the input from Hypercane and rendered the final product with information supplied by MementoEmbed