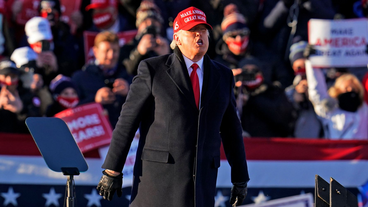 StoryGraph Biggest Story 2020-11-02 -- election day (14), north carolina (12), joe biden (12), the trump campaign (8), former vice president joe (8)
---

---

---

---

---

---

---

---

---

---
Trump's Closing Message: I Will Cheat

The president finished with a pledge to not count lawful votes, attacks on the country's coronavirus expert and praise for a treasonous Confederate general.
---

---

---

---
CNN's final 2020 Electoral College outlook: A remarkably stable race comes to an end

Perhaps one of the most unexpected developments in the 2020 presidential campaign is how remarkably stable the state of the race has proved to be through extraordinarily turbulent times. As the race for the White House comes to a close, the landscape looks quite similar to how it looked after the party conventions in August as the fall campaign got underway.
---

---

---

---
This story was constructed with the SHARI Process:
The StoryGraph Toolkit extracted URIs from the biggest story of the day from the StoryGraph service
Hypercane performed the following steps:

It accepted the list of original resource URIs from the output of the StoryGraph Toolkit, and queried the Memento Aggregator to find as many mementos as possible
For resources that were not already mementos, it submitted them to web archives with ArchiveNow
It analyzed all mementos to automatically discover the most frequent sumgrams and named entities present in the overall story
It analyzed all images in these mementos to automatically select the best image for the overall story
It then formatted the data for the story based on all of this input

Raintale took the input from Hypercane and rendered the final product with information supplied by MementoEmbed