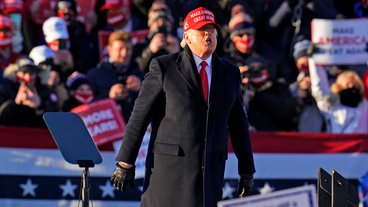 StoryGraph Biggest Story 2020-11-03 -- joe biden (23), election day (23), north carolina (18), four years ago (16), presidential election (10)
---

---

---

---

---

---

---

---

---

---

---

---

---
Melania Trump slams Biden and Democrats in final solo campaign speech

First lady Melania Trump gave her fourth solo campaign speech on Monday afternoon in Huntersville, North Carolina. Trump, who before last Tuesday had not appeared on the campaign trail for more than a year, slammed Democrats in remarks that touched on Covid-19, the military, and echoes of President Donald Trump's law and order messaging.
---

---

---

---

---

---

---

---

---

---

---

---

---

---

---

---

---
Trump's Closing Message: I Will Cheat

The president finished with a pledge to not count lawful votes, attacks on the country's coronavirus expert and praise for a treasonous Confederate general.
---

---
Analysis: Trump's final campaign pitch is a false warning of 'cheating' in Pennsylvania

President Donald Trump closed out his bid for a second term with a false warning that "cheating" in the key state of Pennsylvania could lead to violence in the streets. It was his latest attempt to tarnish the integrity of an election clash with Democrat Joe Biden that more than 100 million Americans have already validated by casting early votes in the middle of the pandemic.
---

---

---
This story was constructed with the SHARI Process:
The StoryGraph Toolkit extracted URIs from the biggest story of the day from the StoryGraph service
Hypercane performed the following steps:

It accepted the list of original resource URIs from the output of the StoryGraph Toolkit, and queried the Memento Aggregator to find as many mementos as possible
For resources that were not already mementos, it submitted them to web archives with ArchiveNow
It analyzed all mementos to automatically discover the most frequent sumgrams and named entities present in the overall story
It analyzed all images in these mementos to automatically select the best image for the overall story
It then formatted the data for the story based on all of this input

Raintale took the input from Hypercane and rendered the final product with information supplied by MementoEmbed