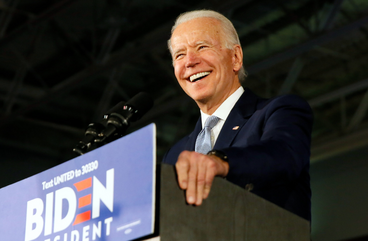 StoryGraph Biggest Story 2020-09-30 -- joe biden (42), the first presidential debate (35), moderator chris wallace (32), and former vice president joe (30), to condemn white supremacists (19)
---

---

---

---

---

---

---

---

---

---

---

---
Maddow: 'This sort of debate shouldn't happen in a democracy.'

Rachel Maddow reacts to the first 2020 presidential debate between Joe Biden and Donald Trump, pointing out that the debate makes clear that the election is a referendum on whether Americans want normal civic politics or Trump's brand of lying and chaos.
---

---

---

---

---

---
Trump refuses to condemn white supremacists

President Trump refused to call out white supremacists for inciting violence at anti-police brutality demonstrations across the country, saying during Tuesday's debate that the violence wasn't an issue cause by the right.
---

---

---

---

---

---
Wallace struggles to keep order in nasty first debate

Chris Wallace was drawn into the vicious debate between President Trump and Democratic nominee Joe Biden on Tuesday night, with the Fox News anchor growing visibly frustrated over the course of the unruly 90-minute spectacle in which he struggled to maintain order.
---

---

---
Trump deploys chaos as he tries to trip Biden

President Trump's strategy was clear from the get-go: Throw Democratic nominee Joe Biden off his stride with a withering broadside of interruptions, personal put-downs, and, when all else failed, a constant stream of decibels to drown out his opponent.
---

---

---

---

---

---

---

---

---

---

---

---

---

---

---

---

---

---

---

---

---

---

---
This story was constructed with the SHARI Process:
The StoryGraph Toolkit extracted URIs from the biggest story of the day from the StoryGraph service
Hypercane performed the following steps:

It accepted the list of original resource URIs from the output of the StoryGraph Toolkit, and queried the Memento Aggregator to find as many mementos as possible
For resources that were not already mementos, it submitted them to web archives with ArchiveNow
It analyzed all mementos to automatically discover the most frequent sumgrams and named entities present in the overall story
It analyzed all images in these mementos to automatically select the best image for the overall story
It then formatted the data for the story based on all of this input

Raintale took the input from Hypercane and rendered the final product with information supplied by MementoEmbed