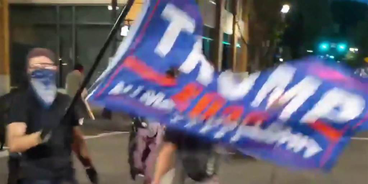 StoryGraph Biggest Story 2020-08-30 -- law enforcement (10), trump supporters (8), law order (8), jacob blake (8), democratic presidential nominee joe biden (8)
---

---

---

---

---

---

---

---

---

---
Expert: Portland clashes are between two majority white groups

Portland clashes between Trump supporters and others, versus Black Lives Matter and other leftist activists, are mostly white on both sides, expert Naveed Jamali tells Tiffany Cross. They discuss the portrayal by significant voices in converative circles that most recent clashes in major cities involve mainly black protesters.
---
Reporters detail Portland clash, possible role of social media

Trump supporters and counter-protesters clashed in Portland overnight. Tiffany Cross and her panel discuss the violence that has erupted in Portland and nationwide as Black Lives Matter protests draw opponents, some violent, and some of whom reportedly organized on social media.
---

---

---

---

---

---

---

---
This story was constructed with the SHARI Process:
The StoryGraph Toolkit extracted URIs from the biggest story of the day from the StoryGraph service
Hypercane performed the following steps:

It accepted the list of original resource URIs from the output of the StoryGraph Toolkit, and queried the Memento Aggregator to find as many mementos as possible
For resources that were not already mementos, it submitted them to web archives with ArchiveNow
It analyzed all mementos to automatically discover the most frequent sumgrams and named entities present in the overall story
It analyzed all images in these mementos to automatically select the best image for the overall story
It then formatted the data for the story based on all of this input

Raintale took the input from Hypercane and rendered the final product with information supplied by MementoEmbed