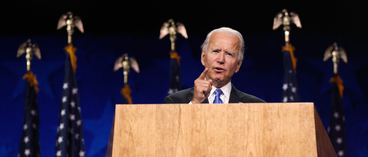 StoryGraph Biggest Story 2020-08-21 -- joe biden (41), the democratic national convention (27), former vice president (25), biden said (22), the final night of (20)
---

---

---

---

---

---

---

---

---

---

---

---

---

---

---

---

---

---

---

---

---

---

---

---

---

---
Republicans say 'depressing' Democratic convention is a loser

Grim. Gloomy. Depressing. Those were some of the words Republican campaign professionals used to describe the Democratic National Convention, which culminated in former Vice President Joe Biden delivering his acceptance speech as the party's presidential nominee on Thursday night.
---

---

---

---

---

---

---

---
President Trump Rips Joe Biden During Dem Nomination Acceptance Speech

President Trump dropped in on Joe Biden as the old tired angry former VP was giving his Democrat nomination acceptance speech Thursday night. Angry Joe Biden slammed his hands on the lectern and ripped into President Trump during his Dem convention speech. Biden looked like an angry, tired old politician screaming about the same old…
---

---

---
Joe Biden likes you even if you don't like him, because it's his job to like you, no matter how you vote.
---

---

---

---

---
Republicans concede Biden did not look mentally unfit

Republicans panned Joe Biden's speech accepting the Democratic nomination as thin on a governing agenda and thick on kitschy cliches. But quietly, GOP operatives conceded the spirited address packed a punch that undercuts President Trump's argument that his opponent is in mental decline and…
---

---
***Live Updates*** Democratic National Convention Night Four

Former Vice President Joe Biden will accept his party's 2020 presidential nomination on Thursday evening, the final night of the virtual Democratic National Convention. Tonight's theme is "America's Promise." Stay tuned to Breitbart News for live updates. All times Eastern. | 2020 Election
---
This story was constructed with the SHARI Process:
The StoryGraph Toolkit extracted URIs from the biggest story of the day from the StoryGraph service
Hypercane performed the following steps:

It accepted the list of original resource URIs from the output of the StoryGraph Toolkit, and queried the Memento Aggregator to find as many mementos as possible
For resources that were not already mementos, it submitted them to web archives with ArchiveNow
It analyzed all mementos to automatically discover the most frequent sumgrams and named entities present in the overall story
It analyzed all images in these mementos to automatically select the best image for the overall story
It then formatted the data for the story based on all of this input

Raintale took the input from Hypercane and rendered the final product with information supplied by MementoEmbed