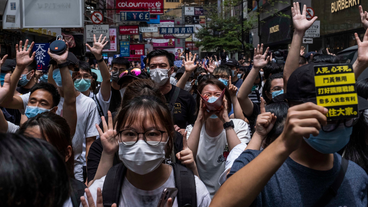 StoryGraph Biggest Story 2020-05-25 -- covid 19 (8), the coronavirus pandemic (7), death toll (7), the first time (6), confirmed cases of (6)
---
Trump imposes travel restrictions on Brazil

The White House on Sunday announced President Trump is restricting the entry of non-U.S. citizens traveling from Brazil as the Latin American country sees a surge in coronavirus cases.
---
Trump retweets personal attacks on Clinton, Pelosi, Abrams

President Trump spent part of his Memorial Day weekend using his Twitter account to promote personal attacks on Democrats, retweeting posts that took aim at former Georgia gubernatorial candidate Stacey Abrams's appearance and anoth
---

---

---

---

---

---

---

---

---
Trump Bans Travel From Brazil, Citing Pandemic

As the United States marked the Memorial Day weekend, President Trump golfed, some Americans flocked to beaches and the death toll neared 100,000. And in Britain, the prime minister said he would not fire an aide for driving across the country while infected.
---
This story was constructed with the SHARI Process:
The StoryGraph Toolkit extracted URIs from the biggest story of the day from the StoryGraph service
Hypercane performed the following steps:

It accepted the list of original resource URIs from the output of the StoryGraph Toolkit, and queried the Memento Aggregator to find as many mementos as possible
For resources that were not already mementos, it submitted them to web archives with ArchiveNow
It analyzed all mementos to automatically discover the most frequent sumgrams and named entities present in the overall story
It analyzed all images in these mementos to automatically select the best image for the overall story
It then formatted the data for the story based on all of this input

Raintale took the input from Hypercane and rendered the final product with information supplied by MementoEmbed