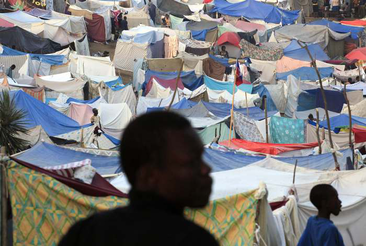 Archive-It Collection 1784: Earthquake in Haiti
---
Crisis Mappers Meeting « iRevolution

Our first CrisisMappers meeting took place in Orlando, Florida this past weekend. The meeting brought together a small group of tech professionals who are at the very cutting edge of crisis mapping...
---

---

---
Haitian Women's Health Organization Urges Vaccinations for Children. [Photo: Sophia Paris/UN]   On 12 January, a powerful earthquake of 7.0 magnitude (USGS) on the Richter Scale affected Haiti , at...
---

---
Multilink Haiti (InternetHaiti) on Twitter

InternetHaiti RT @Louisoxfam: Video of Oxfam cash-for-work program in #Haiti : http://bit.ly/aWKNIn about 1 hour ago from Tweetie @mobinfohaiti you are also The private sector! Keep your great job ...
---

---
MultilinkThe Google "Crisis Response" page in support to disaster relief in Haiti. Thanks you so much Google for your help! On January 12, a 7.0 magnitude earthquake struck Haiti. Join recovery eff...
---

---

---

---
Major earthquake hits Haiti - washingtonpost.com

Jan. 27 A young girl is rescued after being trapped since the earthquake. Haitians found her today, and a French rescue team came to pull her out of the rubble. Carol Guzy-Carol Guzy/Washington ...
---
---
This story was constructed automatically by using an updated version of AlNoamany's Algorithm. For more information about how this algorithm was developed, how it works, and its evaluation, please consult:
Y. AlNoamany, M. C. Weigle, and M. L. Nelson, "Generating Stories From Archived Collections," in Proceedings of the 2017 ACM on Web Science Conference, pp. 309–318, ACM Press, 2017. https://doi.org/10.1145/3091478.3091508.
Y. AlNoamany, M. C. Weigle, and M. L. Nelson, " Stories From the Past Web," Tech. Rep. 1705.06218, May, 2017. https://arxiv.org/abs/1705.06218.
We employed the DSA toolkit to tell this story with the following steps.
Hypercane selected the resources and generated the metadata for the story:

It first executed AlNoamany's Algorithm:

Discovered the Memento TimeMaps for the collection
Analyzed these TimeMaps and reported the memento URI-Ms that were on-topic
Filtered the content of those URI-Ms to find non-duplicates
Filtered the content of those URI-Ms to find English language documents
Sliced the collection by memento-datetime
Clustered the mementos in each slice by Simhash distance
Ranked the mementos in each cluster by a ranking equation
Filtered each cluster for the highest ranking mementos
Ordered each memento by publication date

It used Archive-It Utilities to extract all metadata from the collection, such as who created the collection and the collection's name
It analyzed all mementos to automatically discover the most frequent sumgrams and named entities present in the overall story
It analyzed all images in these mementos to automatically select the best image for the overall story
It then formatted the data for the story based on all of this input

Raintale took the input from Hypercane and rendered the final product with information supplied by MementoEmbed