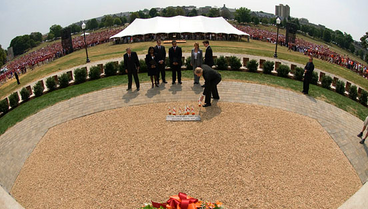 Archive-It Collection 649: Tragedy at Virginia Tech Web Archive, 2007-2012
---
We Remember: Biographies | Virginia Tech

Families have approved and released these official biographies and photos of our 32 fallen Hokies. Please join us in remembering and honoring their lives by clicking on their names or photos. The u...
---
In the hours following the April 16 tragedy, the student-driven volunteer organization Hokies United placed 32 Hokie Stones on the Drillfield. The semi-circle of stones became a place to gather, to...
---
The Latest News and Notices | Virginia Tech

The Latest News and Notices This page is being updated regularly by University Relations. Please check back often for updates and additional information. Media notice: media truck guidelin...
---

---
On April 16, 2009, Virginia Tech will remember the vibrant lives of 32 students and faculty who were tragically taken from their loved ones and our community. Through reflection, spoken word, music...
---
---
This story was constructed automatically by using an updated version of AlNoamany's Algorithm. For more information about how this algorithm was developed, how it works, and its evaluation, please consult:
Y. AlNoamany, M. C. Weigle, and M. L. Nelson, "Generating Stories From Archived Collections," in Proceedings of the 2017 ACM on Web Science Conference, pp. 309–318, ACM Press, 2017. https://doi.org/10.1145/3091478.3091508.
Y. AlNoamany, M. C. Weigle, and M. L. Nelson, " Stories From the Past Web," Tech. Rep. 1705.06218, May, 2017. https://arxiv.org/abs/1705.06218.
We employed the DSA toolkit to tell this story with the following steps.
Hypercane selected the resources and generated the metadata for the story:

It first executed AlNoamany's Algorithm:

Discovered the Memento TimeMaps for the collection
Analyzed these TimeMaps and reported the memento URI-Ms that were on-topic
Filtered the content of those URI-Ms to find non-duplicates
Filtered the content of those URI-Ms to find English language documents
Sliced the collection by memento-datetime
Clustered the mementos in each slice by Simhash distance
Ranked the mementos in each cluster by a ranking equation
Filtered each cluster for the highest ranking mementos
Ordered each memento by publication date

It used Archive-It Utilities to extract all metadata from the collection, such as who created the collection and the collection's name
It analyzed all mementos to automatically discover the most frequent sumgrams and named entities present in the overall story
It analyzed all images in these mementos to automatically select the best image for the overall story
It then formatted the data for the story based on all of this input

Raintale took the input from Hypercane and rendered the final product with information supplied by MementoEmbed