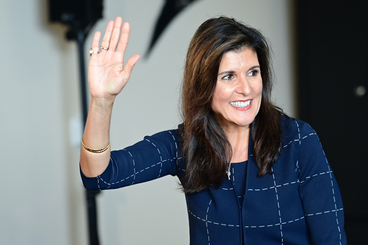 StoryGraph Biggest Story 2023-02-15 -- nikki haley (9), matt gaetz (6), haley said (6), the 2024 presidential (5), sex trafficking (5)
---

---

---

---

---

---

---

---

---
55 Things You Need to Know About Nikki Haley

The former South Carolina governor and Trump official has navigated racial conflict throughout her private and political life — as well as the shifting politics of the Trump-era GOP.
---

---

---
Early 2024 Clues Visible in the Republican Ranks | RealClearPolitics

There's been a lot of talk among Republicans about the effect a big primary field might have on the 2024 presidential nomination race. The short version is that a big field is thought to benefit former President Donald Trump, who, as in 2016, would not have to win a majority of votes to win — a plurality, and not even a big one, would be enough. On the other hand, a small field, especially a one-on-one matchup with another candidate, say Gov. Ron DeSantis (R-FL), might allow the challenger to defeat Trump.
---

---

---

---

---

---

---

---

---
WATCH: Sarah Palin Says Ron DeSantis Should Stay Out of 2024 Race

Former Alaska Gov. Sarah Palin has said that she believes Florida Gov. Ron DeSantis should stay out of the 2024 presidential race. DeSantis has not announced an intent to run, but there has been wide speculation that he will. Palin weighed in on Tuesday during an interview with Newsmax. "DeSantis doesn't need to [run]," Palin…
---
This story was constructed with the SHARI Process:
The StoryGraph Toolkit extracted URIs from the biggest story of the day from the StoryGraph service
Hypercane performed the following steps:

It accepted the list of original resource URIs from the output of the StoryGraph Toolkit, and queried the Memento Aggregator to find as many mementos as possible
For resources that were not already mementos, it submitted them to web archives with ArchiveNow
It analyzed all mementos to automatically discover the most frequent sumgrams and named entities present in the overall story
It analyzed all images in these mementos to automatically select the best image for the overall story
It then formatted the data for the story based on all of this input

Raintale took the input from Hypercane and rendered the final product with information supplied by MementoEmbed