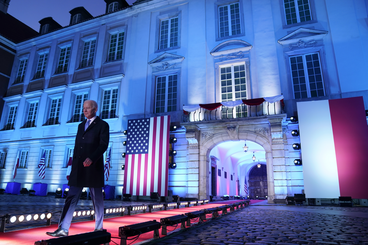 StoryGraph Biggest Story 2022-03-27 -- remain power (16), president joe biden (15), war ukraine (14), regime change (13), biden said (13)
---

---

---

---

---

---
Biden calls Russia's war in Ukraine a 'strategic failure'

During his address in Warsaw, President Biden commends Ukraine for their resistance during the Russia invasion, and says, "Russian forces have met their match." He said, "this war has already been a strategic failure for Russia."
---
Tracing Putin's 22-year slide from statesman to tyrant.
---

---

---

---

---
It's 2 p.m. in Kyiv. Here's what you need to know

Ukraine has reclaimed several villages from Russian forces in a series of counterattacks, including to the east of Kharkiv and northwest of Mariupol, after Russian missiles struck the western city of Lviv on Saturday.
---

---

---

---

---

---

---

---

---

---

---

---

---
The hard truth behind Biden's cyber warnings

Hackers from Russia and elsewhere have repeatedly breached companies and agencies critical to the nation's welfare. "We should consider every sector vulnerable," one of the president's top cyber aides says.
---

---

---

---

---
This story was constructed with the SHARI Process:
The StoryGraph Toolkit extracted URIs from the biggest story of the day from the StoryGraph service
Hypercane performed the following steps:

It accepted the list of original resource URIs from the output of the StoryGraph Toolkit, and queried the Memento Aggregator to find as many mementos as possible
For resources that were not already mementos, it submitted them to web archives with ArchiveNow
It analyzed all mementos to automatically discover the most frequent sumgrams and named entities present in the overall story
It analyzed all images in these mementos to automatically select the best image for the overall story
It then formatted the data for the story based on all of this input

Raintale took the input from Hypercane and rendered the final product with information supplied by MementoEmbed