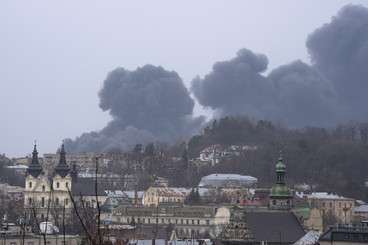 StoryGraph Biggest Story 2022-03-26 -- president joe biden (22), remain power (20), invasion ukraine (19), biden said (19), war ukraine (16)
---

---

---

---

---

---

---

---
Biden calls Russia's war in Ukraine a 'strategic failure'

During his address in Warsaw, President Biden commends Ukraine for their resistance during the Russia invasion, and says, "Russian forces have met their match." He said, "this war has already been a strategic failure for Russia."
---

---

---

---

---

---

---
Photos: Biden's high-stakes trip to Europe

US President Joe Biden wrapped up a four-day trip to Europe on Saturday, holding talks with Polish President Andrzej Duda, meeting with Ukrainian refugees and delivering a capstone speech in Warsaw.
---

---
Biden says Putin 'cannot remain in power'

President Joe Biden declared forcefully Saturday that Russian President Vladimir Putin should no longer remain in power, an unabashed challenge that came at the very end of a swing through Europe meant to reinforce Western unity.
---

---

---

---

---

---

---

---

---

---

---

---

---

---

---

---

---

---
The 22-year arc of the Russian president's exercise of power is a study in audacity.
---

---

---
Biden slammed as 'afraid of Putin' despite waging front of Western unity

WARSAW — Three days of meetings between President Joe Biden and European leaders rose to a crescendo Saturday when the American president gave a major address in Poland that ended with a call for the Russian people to remove President Vladimir Putin from power. But Biden's fiery words did not stop…
---

---

---
This story was constructed with the SHARI Process:
The StoryGraph Toolkit extracted URIs from the biggest story of the day from the StoryGraph service
Hypercane performed the following steps:

It accepted the list of original resource URIs from the output of the StoryGraph Toolkit, and queried the Memento Aggregator to find as many mementos as possible
For resources that were not already mementos, it submitted them to web archives with ArchiveNow
It analyzed all mementos to automatically discover the most frequent sumgrams and named entities present in the overall story
It analyzed all images in these mementos to automatically select the best image for the overall story
It then formatted the data for the story based on all of this input

Raintale took the input from Hypercane and rendered the final product with information supplied by MementoEmbed