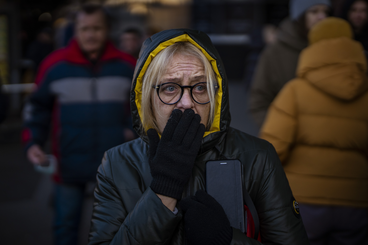 StoryGraph Biggest Story 2022-03-01 -- russia's invasion of ukraine (14), ukrainian president volodymyr zelensky (13), war ukraine (10), war crimes (10), president joe biden (10)
---

---

---

---

---

---

---

---

---

---

---

---

---

---

---

---
March 1, 2022 Russia-Ukraine news

Russia has ramped up war efforts, and President Putin ordered his country's deterrence forces — including nuclear arms — be placed on high alert. Follow here for live news updates from the ground in Ukraine.
---

---

---

---
Conflict heads into a sixth day as Western leaders to try to put pressure on Russia.
---

---

---

---
Friend of Hunter Biden sent to jail for fraud

A longtime friend and former business partner of Hunter Biden was sentenced to just over a year in prison Monday for a fraudulent bond scheme aimed at swindling a Native American tribe as a separate federal investigation into President Joe Biden's son's taxes and business dealings continues.
---

---

---

---

---

---

---

---
Vindman: Zelensky, Ukrainians 'Fortitude' Could Bring End of Putin

Former National Security Council Director for European Affairs U.S. Army Lt. Col. Alexander Vindman said Monday on MSNBC's "Deadline" that President Volodymyr Zelensky and the Ukrainian people resisting the Russian invasion could bring about the "beginning of the end" of Russian President Vladimir Putin. | Clips
---

---

---

---

---

---

---
This story was constructed with the SHARI Process:
The StoryGraph Toolkit extracted URIs from the biggest story of the day from the StoryGraph service
Hypercane performed the following steps:

It accepted the list of original resource URIs from the output of the StoryGraph Toolkit, and queried the Memento Aggregator to find as many mementos as possible
For resources that were not already mementos, it submitted them to web archives with ArchiveNow
It analyzed all mementos to automatically discover the most frequent sumgrams and named entities present in the overall story
It analyzed all images in these mementos to automatically select the best image for the overall story
It then formatted the data for the story based on all of this input

Raintale took the input from Hypercane and rendered the final product with information supplied by MementoEmbed