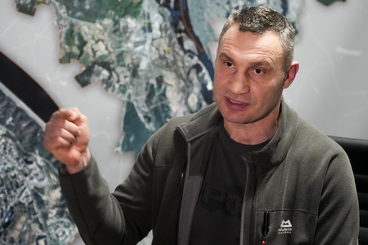 StoryGraph Biggest Story 2022-02-28 -- invasion ukraine (19), ukrainian president volodymyr zelensky (17), russian forces (14), war ukraine (13), ukrainian forces (12)
---

---

---

---

---

---

---

---

---

---

---

---

---

---

---

---
February 27, 2022 Russia-Ukraine news

The two sides agree to meet at the Belarus border Monday, Ukrainian President Zelensky's office says, as Russian President Putin put nuclear forces on alert. Follow here for live news updates from the ground in Ukraine.
---

---

---

---
MacGregor: U.S. Should "Stop Shipping Weapons And Stop Encouraging Ukrainians To Die In A Hopeless Endeavor"

Retired Col. Doug MacGregor said Sunday on FOX News about the Ukrain-Russia war: TREY GOWDY: why do you think that Putin is doing this? What is his end game? COL. DOUG MACGREGOR: Well, Vladimir Putin is carrying through on something he has been warning us about at least for the last 15 finally years, which is he will not tolerate U.S. forces or missiles on his borders. Much as we would not tolerate Russian missiles or troops in Cuba. And we ignored him and he finally acted. He was not going to allow Ukraine, under any circumstances, to join NATO. What is now happening is the battle in Eastern Ukraine is really almost over, all the Ukrainian troops there have been largely surrounded and cut off, you have a concentration down in the southeast of 30 to 40,000 of them, and if they don't surrender in next 48 hours, I suspect the Russians will ultimately annihilate them. That's why Zelensy is meeting with Putin's representatives right now. The game is over. And he's going t have to negotiate the best deal he can get. And we've already told him, the president of the U.S., said that if he opts for neutrality for Ukraine, we will back him. And I think Vladimir Putin will do that for Western Ukraine. That is Ukraine beyond the Dnieper river, but behind it in the East, I'm not sure what he has planned there, whether he forms another republic [or] annexes it into Russia. Because the territory in the west of Ukraine is not, he knows that, and he is happy to live with that as a neutral state. TREY GOWDY: I am not a military expert. I'm not even an expert on geography, but if he takes Ukraine [next to] Poland, he has a NATO country on his border. If that's what he doesn't want, isn't he just going to have to keep going until he runs out of NATO countries? MACGREGOR: I should say agin, he has no interest in crossing the Dnieper and heding west of the Polish border. I think you'll find in these negotiations he is quite willing to neutralize that territory on the Austrian or Finnish model. Right now Russia already touches Estonia and part of Latvia, and White Russia [Belarus] touches Lithuania. His army is too small for that purpose and he knows it. So this is not something he is looking for. We're imputing to him things he does not want to do in our usual effort to demonize him and his country. We need to remember that Ukraine is fourth from the bottom of 158 countries in the in world, at corruption. Russia is 3 or 4 places above them. This is not the liberal democracy, the shining example that everyone says it is, far from it. Mr. Zelensky has jailed journalists and his political opposition. I think we need to stay out of it. The American people think we should stay out of it, the Europeans think we should stay out of it, and we should stop shipping weapons and encouraging Ukrainians to die in what is a hopeless endeavor. TREY GOWDY: You say no sanctions or military aid, just let Russia take that portion of Ukraine that they want to take? DOUG MACGREGOR: Yes. Absolutely. I see no reason why we should fight with the Russians over something they have been talking about for years, we chose to ignore it more importantly, the population there is indistinguishable from their own. You know, the thing that is so disturbing, on one hand, we'll not send our forces to fight. But we're urging Ukrainians to die pointlessly in a fight they can't win. We're going to create a far worse humanitarian disaster if this does not stop.
---

---

---

---

---

---

---
Ukrainian President Zelensky Agrees to Meet with Russian Delegation on Ukrainian-Belrusian Border

Greg Kelly graphic Ukrainian President Zelensky agreed to meet with a Russian delegation on the Ukrainian-Belrusian border. Belarus allowed Russian President Putin to launch his attack on Ukraine from inside their country. From President Zelensky's Facebook page. Belarus tyrant Alexander Lukashenko called Vladimir Zelensky earlier today. Politicians have agreed that the Ukrainian delegation will meet…
---

---

---
Putin's invasion of Ukraine isn't going as he planned. Here's why.
---

---

---
Putin puts Russian nuclear forces on alert as Ukrainian civilian deaths mount

Global governments moved to isolate Russia economically but fears of nuclear brinksmanship increased. An onslaught of Russian tanks and assault vehicles captured on video storming toward the capital, Kyiv, has triggered fears of further bloodshed as the humanitarian crisis of Ukrainians fleeing to neighboring countries grew.
---

---

---

---

---
This story was constructed with the SHARI Process:
The StoryGraph Toolkit extracted URIs from the biggest story of the day from the StoryGraph service
Hypercane performed the following steps:

It accepted the list of original resource URIs from the output of the StoryGraph Toolkit, and queried the Memento Aggregator to find as many mementos as possible
For resources that were not already mementos, it submitted them to web archives with ArchiveNow
It analyzed all mementos to automatically discover the most frequent sumgrams and named entities present in the overall story
It analyzed all images in these mementos to automatically select the best image for the overall story
It then formatted the data for the story based on all of this input

Raintale took the input from Hypercane and rendered the final product with information supplied by MementoEmbed