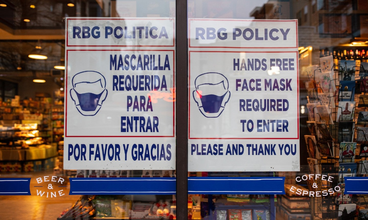 StoryGraph Biggest Story 2021-05-14 -- rochelle walensky (5), fully vaccinated (5), unvaccinated people (4), to wear masks (4), dr rochelle (4)
---
Analysis: America's unmasking brings liberation but also trepidation as huge questions loom

Americans stripped off their masks Thursday as the US Centers for Disease Control and Prevention made the sudden announcement that vaccinated people no longer need to wear them indoors or outdoors. It was a great moment of liberation after a year of intense stress and fear, but also one of trepidation for many as the policy created a whole new set of complex questions for parents, employers, business owners and the millions of Americans who are still hesitant to get shots.
---

---

---

---
The new European data protection law requires us to inform you of the following before you use our website: We use cookies and other technologies to customize your experience, perform analytics and...
---
Wait, does this mean the pandemic is over for vaccinated people?

The US Centers for Disease Control and Prevention on Thursday abruptly changed its guidance on masks and social distancing, saying people who are fully vaccinated against Covid-19 don't have to wear masks indoors, and they don't have to keep their distance from others.
---
This story was constructed with the SHARI Process:
The StoryGraph Toolkit extracted URIs from the biggest story of the day from the StoryGraph service
Hypercane performed the following steps:

It accepted the list of original resource URIs from the output of the StoryGraph Toolkit, and queried the Memento Aggregator to find as many mementos as possible
For resources that were not already mementos, it submitted them to web archives with ArchiveNow
It analyzed all mementos to automatically discover the most frequent sumgrams and named entities present in the overall story
It analyzed all images in these mementos to automatically select the best image for the overall story
It then formatted the data for the story based on all of this input

Raintale took the input from Hypercane and rendered the final product with information supplied by MementoEmbed