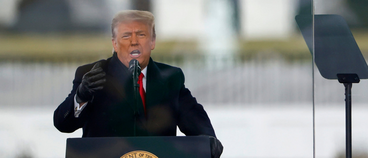 StoryGraph Biggest Story 2021-05-05 -- the facebook oversight board (10), within six months (9), the board said (8), the social media (7), indefinite suspension (7)
---

---

---

---

---
Twitter plans to continue Trump ban

Twitter will not reinstate former President Donald Trump. The decision was made independent of Facebook's Oversight Board, which announced on Wednesday that he will remain suspended.
---

---

---

---
The new European data protection law requires us to inform you of the following before you use our website: We use cookies and other technologies to customize your experience, perform analytics and...
---
Facebook Oversight Board upholds Donald Trump's suspension from the platform

Facebook can keep blocking former President Donald Trump from using its platform but must revisit the decision within six months, the social network's court-like Oversight Board said Wednesday. The landmark decision affirmed the company's decision to issue the suspension after the January 6 US Capitol riots.
---
What you need to know about the board deciding Trump's fate on Facebook

The decision not to allow former President Donald Trump back on Facebook is the biggest, most contentious and most controversial single content moderation determination the company has ever made. So who made that call? Well, surprisingly, not company founder and CEO Mark Zuckerberg.
---

---

---
This story was constructed with the SHARI Process:
The StoryGraph Toolkit extracted URIs from the biggest story of the day from the StoryGraph service
Hypercane performed the following steps:

It accepted the list of original resource URIs from the output of the StoryGraph Toolkit, and queried the Memento Aggregator to find as many mementos as possible
For resources that were not already mementos, it submitted them to web archives with ArchiveNow
It analyzed all mementos to automatically discover the most frequent sumgrams and named entities present in the overall story
It analyzed all images in these mementos to automatically select the best image for the overall story
It then formatted the data for the story based on all of this input

Raintale took the input from Hypercane and rendered the final product with information supplied by MementoEmbed