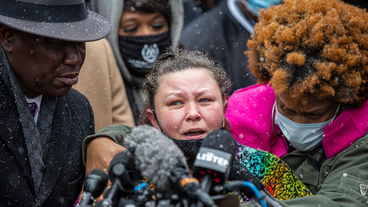 StoryGraph Biggest Story 2021-04-14 -- daunte wright (19), brooklyn center (19), trial of former minneapolis police officer derek chauvin (16), traffic stop (13), of george floyd (13)
---

---

---
Second night of protests after police killing of Daunte Wright

The Minneapolis suburb of Brooklyn Center saw a second night of protests and some small clashes with police after an officer shot and killed 20-year-old Daunte Wright during a traffic stop. The police chief says the officer meant to use a taser. We discuss with fmr. Seattle police chief Carmen Best.
---

---
The new European data protection law requires us to inform you of the following before you use our website: We use cookies and other technologies to customize your experience, perform analytics and...
---
The new European data protection law requires us to inform you of the following before you use our website: We use cookies and other technologies to customize your experience, perform analytics and...
---

---

---

---
Bodycam footage of Daunte Wright shooting released - CNN Video

Brooklyn Center Police have released bodycam footage showing the moment Daunte Wright was shot by a police officer during a traffic stop in Minnesota. Police chief Tim Gannon said he believes the officer accidently drew her handgun instead of a taser in the encounter with Wright. A warning, this video is very graphic, and you may find it disturbing.
---

---

---

---

---

---

---

---

---

---

---

---

---
This story was constructed with the SHARI Process:
The StoryGraph Toolkit extracted URIs from the biggest story of the day from the StoryGraph service
Hypercane performed the following steps:

It accepted the list of original resource URIs from the output of the StoryGraph Toolkit, and queried the Memento Aggregator to find as many mementos as possible
For resources that were not already mementos, it submitted them to web archives with ArchiveNow
It analyzed all mementos to automatically discover the most frequent sumgrams and named entities present in the overall story
It analyzed all images in these mementos to automatically select the best image for the overall story
It then formatted the data for the story based on all of this input

Raintale took the input from Hypercane and rendered the final product with information supplied by MementoEmbed