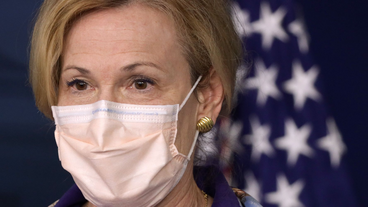 StoryGraph Biggest Story 2021-03-29 -- that came from that original surge (6), rest mind (6), mind mitigated (6), have been mitigated or decreased substantially (6), dr deborah (6)
---

---

---

---
What the Covid-19 war was really like in Trump's White House

No longer working under the Trump administration, six leading US health officials now reveal to CNN the real challenges they faced during the nation's fight against Covid-19 over the past year: death threats, mixed messages and in some cases, being kept from sharing information with national audiences.
---

---
Opinion: The hard lesson of Dr. Deborah Birx

Dr. Anthony Fauci has received widespread acclaim, while Dr. Deborah Birx's previously sterling reputation has been tarnished -- perhaps irrevocably, writes Megan Ranney. As a clinician-scientist, I have criticized Birx. But I also have to wonder: What went wrong?
---

---
This story was constructed with the SHARI Process:
The StoryGraph Toolkit extracted URIs from the biggest story of the day from the StoryGraph service
Hypercane performed the following steps:

It accepted the list of original resource URIs from the output of the StoryGraph Toolkit, and queried the Memento Aggregator to find as many mementos as possible
For resources that were not already mementos, it submitted them to web archives with ArchiveNow
It analyzed all mementos to automatically discover the most frequent sumgrams and named entities present in the overall story
It analyzed all images in these mementos to automatically select the best image for the overall story
It then formatted the data for the story based on all of this input

Raintale took the input from Hypercane and rendered the final product with information supplied by MementoEmbed