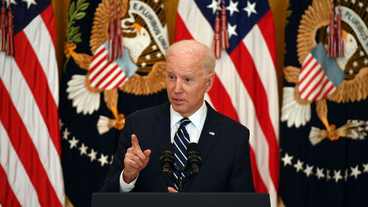 StoryGraph Biggest Story 2021-03-25 -- president joe biden (14), first press conference (12), biden said (10), run reelection (8), vice president kamala harris (7)
---
Five takeaways from Biden's first presser

In his first press conference as commander in chief, President Biden forcefully defended his administration's response to the surge of migrants at the southern border and signaled he could be open to getting rid of the filibuster that is imperilin
---
Key takeaways from Biden's first White House news conference

Convening his first formal news conference Thursday, President Joe Biden stepped into a swirl of issues that have bubbled up at the two-month mark of his presidency, which has been almost exclusively focused until now on confronting the coronavirus pandemic.
---

---

---

---

---

---

---

---

---

---

---

---
Opinion: Biden's filibuster flip-flop is outrageous

Scott Jennings writes that during his first press conference, President Joe Biden contradicted himself on where he stands on the filibuster. While in the past he was the biggest proponent of this US Senate tool, Biden now says it's being abused and has a racist past.
---

---

---

---
This story was constructed with the SHARI Process:
The StoryGraph Toolkit extracted URIs from the biggest story of the day from the StoryGraph service
Hypercane performed the following steps:

It accepted the list of original resource URIs from the output of the StoryGraph Toolkit, and queried the Memento Aggregator to find as many mementos as possible
For resources that were not already mementos, it submitted them to web archives with ArchiveNow
It analyzed all mementos to automatically discover the most frequent sumgrams and named entities present in the overall story
It analyzed all images in these mementos to automatically select the best image for the overall story
It then formatted the data for the story based on all of this input

Raintale took the input from Hypercane and rendered the final product with information supplied by MementoEmbed