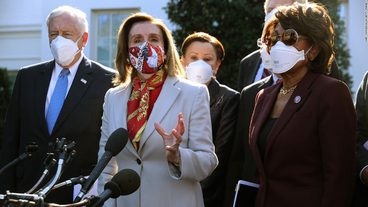 StoryGraph Biggest Story 2021-02-20 -- joe manchin (7), the house budget committee (5), senate democrats (5), sen joe (5), office management (5)
---

---
House panel unveils $1.9T relief package

House Democrats on Friday unveiled a gargantuan $1.9 trillion coronavirus relief package, the first step of codifying the proposal crafted by President Biden's administration.
---

---

---
Nunes lawsuit against CNN thrown out

A federal judge on Friday threw out a libel lawsuit filed by Rep. Devin Nunes (R-Calif.) against CNN over coverage saying he was involved an effort to dig up dirt on now-President Biden regarding dealings with Ukraine.
---

---
The new European data protection law requires us to inform you of the following before you use our website: We use cookies and other technologies to customize your experience, perform analytics and...
---

---

---
READ: Full House Democratic Covid relief and $15 minimum wage increase bill

House Democrats on Friday released the full text of their $1.9 Covid-19 relief bill, which includes an increase in the federal minimum wage, direct checks for Americans making $75,000 or less a year, an extension of $400 federal unemployment benefits and more money for small businesses struggling amid the pandemic.
---

---
This story was constructed with the SHARI Process:
The StoryGraph Toolkit extracted URIs from the biggest story of the day from the StoryGraph service
Hypercane performed the following steps:

It accepted the list of original resource URIs from the output of the StoryGraph Toolkit, and queried the Memento Aggregator to find as many mementos as possible
For resources that were not already mementos, it submitted them to web archives with ArchiveNow
It analyzed all mementos to automatically discover the most frequent sumgrams and named entities present in the overall story
It analyzed all images in these mementos to automatically select the best image for the overall story
It then formatted the data for the story based on all of this input

Raintale took the input from Hypercane and rendered the final product with information supplied by MementoEmbed