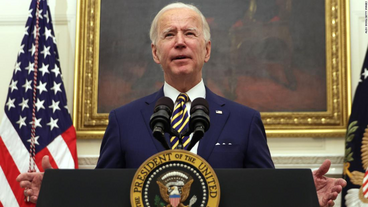 StoryGraph Biggest Story 2021-01-23 -- senate majority leader chuck schumer and (9), second impeachment trial (9), to convict trump (7), senate minority leader mitch mcconnell (7), senate republicans (6)
---

---

---

---

---

---

---
Analysis: Impeachment complicates Biden's efforts to unify

President Joe Biden spent his first week in office trying to convince the nation to see themselves not as Democrats or Republicans, but as Americans united in defeating the pandemic. Then on Friday night, the impeachment trial of former President Donald Trump got a formal date on the calendar, complicating every bipartisan goal on the new President's agenda.
---
See why Trump may be banned from running in 2024

The impeachment articles against Donald Trump will formally go the to Senate in mere days. But as MSNBC's Chief Legal Correspondent Ari Melber explains, Trump's second impeachment will be different from his last. Democratic Senator Chuck Schumer is now in charge, which means there could be more evidence and witnesses admitted in trial- two things Republicans blocked last time- and Trump is now out of office, ensuring the entire case is about whether or not he should be convicted. Melber asserts the Senate will decide something "that shapes history" and that may ensure Trump "never has power again."
---

---
Schumer announces impeachment trial beginning week of Feb. 8

Senate Majority Leader Chuck Schumer (D-NY) just announced Donald Trump's Senate impeachment trial schedule has been agreed to and will begin in a little more than two weeks on February 8. MSNBC's Ari Melber reports on the breaking news, announcing the House managers will formally present the articles of impeachment to the Senate on Monday, January 25.
---

---

---
Senate impeachment trial arguments to start February 9

The second Senate impeachment trial of former President Donald Trump is scheduled to begin on February 9 after Senate leaders reached a deal to push it back, giving Trump's legal team more time to prepare and Senate Democrats a chance to consider Covid-19 legislation and to confirm President Joe Biden's Cabinet.
---
This story was constructed with the SHARI Process:
The StoryGraph Toolkit extracted URIs from the biggest story of the day from the StoryGraph service
Hypercane performed the following steps:

It accepted the list of original resource URIs from the output of the StoryGraph Toolkit, and queried the Memento Aggregator to find as many mementos as possible
For resources that were not already mementos, it submitted them to web archives with ArchiveNow
It analyzed all mementos to automatically discover the most frequent sumgrams and named entities present in the overall story
It analyzed all images in these mementos to automatically select the best image for the overall story
It then formatted the data for the story based on all of this input

Raintale took the input from Hypercane and rendered the final product with information supplied by MementoEmbed