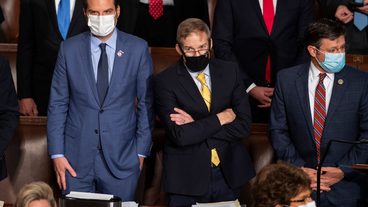 StoryGraph Biggest Story 2021-01-13 -- house republicans voted to (17), to impeach trump (15), liz cheney (15), voted impeach (14), trump for a second time (14)
---

---

---

---

---

---

---

---

---

---

---

---

---

---

---

---

---

---

---

---

---

---

---

---

---

---

---

---

---

---

---

---

---

---

---

---
MSNBC Live: House To Vote On Impeachment Of President Trump

House Democrats introduced one article of impeachment against President Donald Trump on Monday for "incitement of insurrection" for urging his supporters to march on the Capitol last Wednesday. The House will vote on the impeachment measure Wednesday morning after considering legislation that calls on Vice President Mike Pence to invoke the 25th Amendment to remove Trump from office before Jan. 20.
---
Several senior Republicans join impeachment push

The House approved a resolution, 223 to 205, urging Vice President Pence and the Cabinet to use their powers under the 25th Amendment to remove President Trump, with Rep. Adam Kinzinger the only Republican supporting it.
---

---

---

---

---
This story was constructed with the SHARI Process:
The StoryGraph Toolkit extracted URIs from the biggest story of the day from the StoryGraph service
Hypercane performed the following steps:

It accepted the list of original resource URIs from the output of the StoryGraph Toolkit, and queried the Memento Aggregator to find as many mementos as possible
For resources that were not already mementos, it submitted them to web archives with ArchiveNow
It analyzed all mementos to automatically discover the most frequent sumgrams and named entities present in the overall story
It analyzed all images in these mementos to automatically select the best image for the overall story
It then formatted the data for the story based on all of this input

Raintale took the input from Hypercane and rendered the final product with information supplied by MementoEmbed