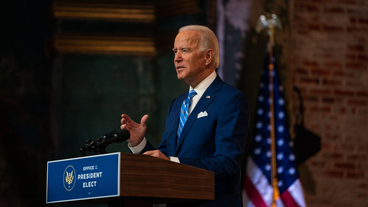 StoryGraph Biggest Story 2020-11-30 -- president elect joe biden (6), office management (6), neera tanden (6), management budget (6), the council of economic advisers (5)
---

---
McCain, Kristol battle over Tanden nomination

Conservative pundit Meghan McCain slammed fellow conservative Bill Kristol for praising President-elect Joe Biden's pick for the director of the Office of Management and Budget (OMB). 
---

---
Biden announces nominations for key members of his economic team

President-elect Joe Biden has announced his nominees for key economic positions. These include Janet Yellen will be nominated to serve as Treasury Secretary, Neera Tanden to lead the Office of Management and Budget, and members for the Council of Economic Advisers.
---

---

---

---

---

---
This story was constructed with the SHARI Process:
The StoryGraph Toolkit extracted URIs from the biggest story of the day from the StoryGraph service
Hypercane performed the following steps:

It accepted the list of original resource URIs from the output of the StoryGraph Toolkit, and queried the Memento Aggregator to find as many mementos as possible
For resources that were not already mementos, it submitted them to web archives with ArchiveNow
It analyzed all mementos to automatically discover the most frequent sumgrams and named entities present in the overall story
It analyzed all images in these mementos to automatically select the best image for the overall story
It then formatted the data for the story based on all of this input

Raintale took the input from Hypercane and rendered the final product with information supplied by MementoEmbed