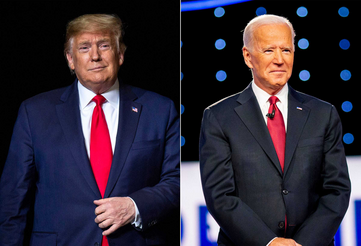 StoryGraph Biggest Story 2020-10-31 -- joe biden (17), the former vice president (11), the coronavirus pandemic (9), shattering daily record biden leads trump by 8 points nationally (8), north carolina (8)
---

---

---

---

---
Madame Tussauds in Berlin dumps Trump before U.S. election

The waxwork museum Madame Tussauds in Berlin loaded its effigy of TV star-turned Republican president Donald Trump into a dumpster on Friday, a move apparently intended to reflect its expectations of next Tuesday's presidential election.
---

---

---
Obama boosts Biden in must-win Michigan

Former President Obama joined his former vice president, Joe Biden, at a rally in Flint, Mich., on Saturday as he ramps up his campaign appearances on behalf of the Democratic nominee in the final days of the 2020 presidential race.
---

---

---

---

---

---

---

---

---

---

---

---
Analysis: Why Trump needs more than a 2016 polling miss to win

The 2020 election is down to the home stretch. And like most of the year, former Vice President Joe Biden continues to lead President Donald Trump nationally and in the swing states that matter. There are some who dismiss the polls because of their perceived inaccuracies in 2016.
---
This story was constructed with the SHARI Process:
The StoryGraph Toolkit extracted URIs from the biggest story of the day from the StoryGraph service
Hypercane performed the following steps:

It accepted the list of original resource URIs from the output of the StoryGraph Toolkit, and queried the Memento Aggregator to find as many mementos as possible
For resources that were not already mementos, it submitted them to web archives with ArchiveNow
It analyzed all mementos to automatically discover the most frequent sumgrams and named entities present in the overall story
It analyzed all images in these mementos to automatically select the best image for the overall story
It then formatted the data for the story based on all of this input

Raintale took the input from Hypercane and rendered the final product with information supplied by MementoEmbed