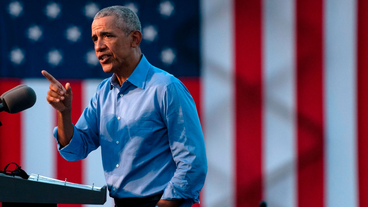 StoryGraph Biggest Story 2020-10-22 -- joe biden (12), president barack obama (9), former vice president (8), the trump campaign (7), the supreme court (7)
---

---
WATCH: Obama Mocks Trump Over Secret Chinese Bank Account

Advertisements Joe Biden's campaign for the presidency is going quite well. He is running well ahead of Hillary Clinton in most states and has an average lead over Donald Trump of around 10 percentage points. On Wednesday afternoon, Biden unleashed his secret weapon, former President Barack Obama. Obama held a drive-in rally in Philadelphia aimed … Continue reading "WATCH: Obama Mocks Trump Over Secret Chinese Bank Account"
---

---

---

---

---

---

---

---
Barack Obama's Philadelphia speech: Full video - CNN Video

During a speech in Philadelphia, former President Barack Obama delivered a blistering account of his successor's first four years in office, arguing that President Donald Trump has proved he is "incapable of taking the job seriously" and has shown no interest in "helping anybody but himself and his friends." Read the transcript here.
---

---
An 'angry' Trump enters final debate as advisers hope for some chill

After his abrasive debate performance in September, President Donald Trump walked off stage believing he had won. It was only in the ensuing hours, as he watched clips of his constant interruptions and irate demeanor play on television, that he recognized how poorly his conduct came across.
---

---

---

---

---

---

---

---

---

---
This story was constructed with the SHARI Process:
The StoryGraph Toolkit extracted URIs from the biggest story of the day from the StoryGraph service
Hypercane performed the following steps:

It accepted the list of original resource URIs from the output of the StoryGraph Toolkit, and queried the Memento Aggregator to find as many mementos as possible
For resources that were not already mementos, it submitted them to web archives with ArchiveNow
It analyzed all mementos to automatically discover the most frequent sumgrams and named entities present in the overall story
It analyzed all images in these mementos to automatically select the best image for the overall story
It then formatted the data for the story based on all of this input

Raintale took the input from Hypercane and rendered the final product with information supplied by MementoEmbed