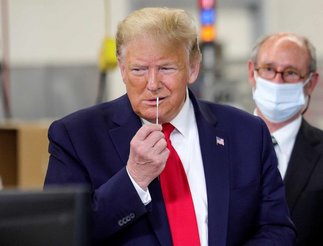 StoryGraph Biggest Story 2020-09-18 -- town hall (12), democratic presidential nominee joe biden (10), biden said (9), the former vice president (8), the american people (8)
---

---

---

---

---

---

---

---
5 takeaways from Joe Biden's CNN town hall

Joe Biden cast the United States as unsafe under President Donald Trump and claimed he could unite the country Thursday night in a CNN town hall less than two weeks before their first debate.
---

---

---

---

---

---

---

---
Analysis: Biden shows the qualities Trump lacks at CNN town hall

Democratic nominee Joe Biden on Thursday showed the empathy and fact-based thinking at a CNN town hall that President Donald Trump has been lacking, both at his own similar event two days before and throughout his botched management of a pandemic that has killed nearly 200,000 Americans.
---
6 key lines from Joe Biden's CNN town hall

Democratic presidential nominee Joe Biden discussed an array of topics tonight during his CNN town hall, including President Trump's response to the coronavirus pandemic, policing in the US and what his campaign stands for.
---

---

---
This story was constructed with the SHARI Process:
The StoryGraph Toolkit extracted URIs from the biggest story of the day from the StoryGraph service
Hypercane performed the following steps:

It accepted the list of original resource URIs from the output of the StoryGraph Toolkit, and queried the Memento Aggregator to find as many mementos as possible
For resources that were not already mementos, it submitted them to web archives with ArchiveNow
It analyzed all mementos to automatically discover the most frequent sumgrams and named entities present in the overall story
It analyzed all images in these mementos to automatically select the best image for the overall story
It then formatted the data for the story based on all of this input

Raintale took the input from Hypercane and rendered the final product with information supplied by MementoEmbed