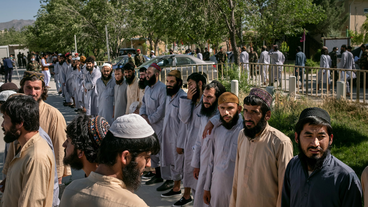 StoryGraph Biggest Story 2020-06-30 -- russian bounty (9), troops afghanistan (8), vice president joe biden (7), trump briefed (7), bounties to taliban-linked militants (7)
---

---

---
McConnell: Russia should not be admitted to G-7

Senate Majority Leader Mitch McConnell (R-Ky.) said on Tuesday that Russia should not be readmitted to the Group of Seven (G-7), breaking with President Trump, who has repeatedly floated having Moscow attend the group's summits. 
---

---

---

---

---
'Intel has always been bipartisan': Sen. Manchin criticizes White House's party line bounty briefings

Senator Joe Manchin (D-WV) joined Andrea Mitchell to discuss the latest intelligence reports and administration's response to the allegations of a Russian bounty program targeting American soldiers in Afghanistan. Senator Manchin called President Trump's invitation to Vladimir Putin to attend the G7, as well as the repeated communications between the president and Putin without bringing up the bounty issue, "unbelievable" and "unfathomable" given the intelligence.
---

---

---

---

---

---

---

---

---
This story was constructed with the SHARI Process:
The StoryGraph Toolkit extracted URIs from the biggest story of the day from the StoryGraph service
Hypercane performed the following steps:

It accepted the list of original resource URIs from the output of the StoryGraph Toolkit, and queried the Memento Aggregator to find as many mementos as possible
For resources that were not already mementos, it submitted them to web archives with ArchiveNow
It analyzed all mementos to automatically discover the most frequent sumgrams and named entities present in the overall story
It analyzed all images in these mementos to automatically select the best image for the overall story
It then formatted the data for the story based on all of this input

Raintale took the input from Hypercane and rendered the final product with information supplied by MementoEmbed