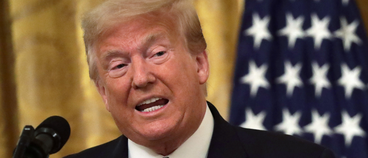 StoryGraph Biggest Story 2020-06-18 -- john bolton (16), former national security adviser john (15), the new york times (12), bolton book (12), the justice department (11)
---

---

---

---
In new book, Bolton says Trump asked China for help with reelection

Bolton's book reveals a long list of Trump's misconduct, including that Trump solicited China's help with his reelection like he did with Ukraine. Ben Rhodes tells Lawrence O'Donnell it's "absurd" that Bolton refused to testify about Trump's corrupt conduct during impeachment: "The extremity of how far the presidency has fallen is on display in this book… and on display in Bolton's conduct itself."
---

---

---

---

---

---

---
Bolton's staggering profile in cowardice

Elie Honig writes that when President Donald Trump was facing removal from office, John Bolton kept mum on the President's misdeeds. Now that he has a book to sell, the former national security adviser is painting a damning portrait of Trump's conduct.
---

---
Bolton book portrays 'stunningly uninformed' Trump

Former National Security Advisor John Bolton's forthcoming book portrays President Trump as a "stunningly uninformed" officeholder who routinely conflated different people, veered off on unrelated tangents during critical meetings and had little concept of the world with which he dealt.
---

---

---

---

---

---

---

---

---

---

---

---

---

---

---

---
What we learned from John Bolton's eye-popping tale of working with Trump

John Bolton details a troubling and shocking series of allegations in a new book about his tenure as President Donald Trump's national security adviser, alleging Trump requested Chinese help to win the 2020 election, that the President argued Venezuela is part of the US, that he casually offered to intervene in the criminal justice system for foreign leaders and that his own senior officials mocked him behind his back.
---

---

---
This story was constructed with the SHARI Process:
The StoryGraph Toolkit extracted URIs from the biggest story of the day from the StoryGraph service
Hypercane performed the following steps:

It accepted the list of original resource URIs from the output of the StoryGraph Toolkit, and queried the Memento Aggregator to find as many mementos as possible
For resources that were not already mementos, it submitted them to web archives with ArchiveNow
It analyzed all mementos to automatically discover the most frequent sumgrams and named entities present in the overall story
It analyzed all images in these mementos to automatically select the best image for the overall story
It then formatted the data for the story based on all of this input

Raintale took the input from Hypercane and rendered the final product with information supplied by MementoEmbed