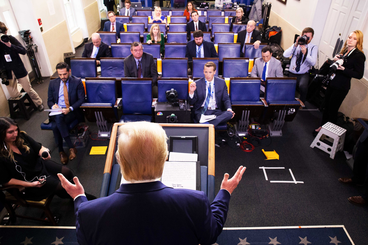 StoryGraph Biggest Story 2020-05-17 -- state department inspector general steve linick, former president barack obama, inspectors general, the coronavirus pandemic, house foreign affairs committee chairman eliot
---

---

---

---

---

---
Trump's dangerous assault on government watchdogs

Samantha Vinograd writes, "Congress needs bipartisan support to hold the President accountable for his assault on oversight, otherwise Trump will continue turning the US government into a personal political and vendetta machine."
---
Inspector general becomes latest watchdog fired by Trump - CNN Video

President Donald Trump notified Congress of his intent to remove State Department Inspector General Steve Linick. Linick is the fourth inspector general or acting inspector general to be removed in six weeks, and his ouster goes to show that for Trump, getting rid of inspectors general without just cause isn't a coincidence -- it's a trend.
---
Who Trump has removed from the inspector general role

As the nation has been focused on fighting coronavirus, President Donald Trump has continued his attacks on internal government oversight -- gutting his administration of independent government watchdogs he sees as disloyal to him.
---

---

---

---

---

---

---
Obama Takes Veiled Swipe at Trump in Black Colleges Virtual Graduation Address

Former President Barack Obama took a veiled swipe at President Trump during a virtual commencement address for HBCU (historically black colleges and universities) on Saturday. ""More than anything, this pandemic has fully, finally torn back the curtain on the idea that so many of the folks in charge know what they're doing. A lot of…
---
Romney Rips Trump for Firing Inspectors General: "Threat to Accountable Democracy"

Anti-Trump Republican Senator Mitt Romney of Utah ripped into President Trump Saturday for his firing of several inspectors general over the past few months, calling the moves "a threat to accountable democracy and a fissure in the constitutional balance of power." File screen image. Romney's attack comes a day after Trump fired Obama holdover State…
---

---

---

---

---
Benghazi Liar Susan Rice Is Open To Being Joe Biden's VP

Susan Rice was national security adviser to Obama. You may remember her as the person who went on multiple news shows after the Benghazi terror attack and claimed it happened because of a YouTube video. That was a lie and everyone knows it. Now she is apparently open to being chosen as Joe Biden's 2020…
---
This story was constructed with the SHARI Process:
The StoryGraph Toolkit extracted URIs from the biggest story of the day from the StoryGraph service
Hypercane performed the following steps:

It accepted the list of original resource URIs from the output of the StoryGraph Toolkit, and queried the Memento Aggregator to find as many mementos as possible
For resources that were not already mementos, it submitted them to web archives with ArchiveNow
It analyzed all mementos to automatically discover the most frequent sumgrams and named entities present in the overall story
It analyzed all images in these mementos to automatically select the best image for the overall story
It then formatted the data for the story based on all of this input

Raintale took the input from Hypercane and rendered the final product with information supplied by MementoEmbed