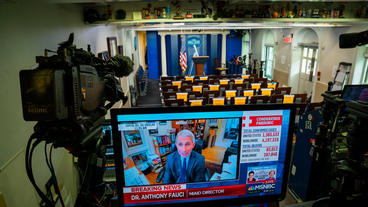 StoryGraph Biggest Story 2020-05-13 -- public health, in new york city, dr. anthony fauci, fauci said, white house coronavirus task
---

---

---

---

---

---

---

---

---

---

---
7 key moments from Fauci's Senate hearing

Dr. Anthony Fauci and three other top Trump administration officials testified before Congress on Tuesday, describing the administration's response to the Covid-19 outbreak and what reopening the country might look like in the coming months.
---
Fauci warns of colossal, deadly mistake. Will Trump listen?

Testifying before the US Senate Tuesday, Dr. Anthony Fauci and colleagues painted a dire (if confusing) picture of what an America that reopens to soon could look like. The pressing question now, says Jill Filipovic: Will Donald Trump listen?
---

---

---
This story was constructed with the SHARI Process:
The StoryGraph Toolkit extracted URIs from the biggest story of the day from the StoryGraph service
Hypercane performed the following steps:

It accepted the list of original resource URIs from the output of the StoryGraph Toolkit, and queried the Memento Aggregator to find as many mementos as possible
For resources that were not already mementos, it submitted them to web archives with ArchiveNow
It analyzed all mementos to automatically discover the most frequent sumgrams and named entities present in the overall story
It analyzed all images in these mementos to automatically select the best image for the overall story
It then formatted the data for the story based on all of this input

Raintale took the input from Hypercane and rendered the final product with information supplied by MementoEmbed