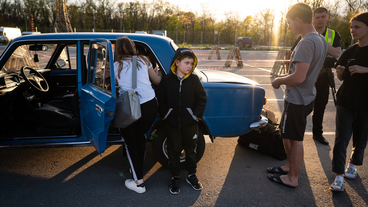 StoryGraph Biggest Story 2022-05-02 -- ukrainian president volodymyr zelenskyy (12), war ukraine (10), the azovstal steel plant (7), since the war began (7), ukrainian officials (6)
---

---

---

---

---
Pelosi concludes secret visit to Ukraine

The House speaker, who is second in line to the presidency, is now the highest-ranking U.S. official to visit the war-battered nation since Russia's invasion began.
---

---

---

---

---

---

---

---

---

---

---
Jill Biden to travel to Romania and Slovakia on mission to support Ukrainian refugees

First lady Jill Biden will travel to Romania and Slovakia this week in a show of support for displaced Ukrainian families forced to flee in the wake of Russia's invasion. Biden will also use the trip to meet with members of the United States military stationed overseas, as well as top-level government officials in both countries, according to a release from the East Wing.
---

---

---
This story was constructed with the SHARI Process:
The StoryGraph Toolkit extracted URIs from the biggest story of the day from the StoryGraph service
Hypercane performed the following steps:

It accepted the list of original resource URIs from the output of the StoryGraph Toolkit, and queried the Memento Aggregator to find as many mementos as possible
For resources that were not already mementos, it submitted them to web archives with ArchiveNow
It analyzed all mementos to automatically discover the most frequent sumgrams and named entities present in the overall story
It analyzed all images in these mementos to automatically select the best image for the overall story
It then formatted the data for the story based on all of this input

Raintale took the input from Hypercane and rendered the final product with information supplied by MementoEmbed