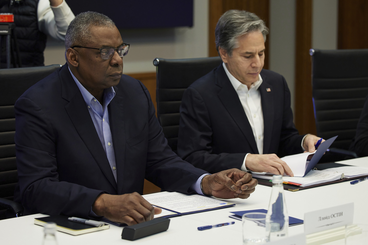 StoryGraph Biggest Story 2022-04-25 -- secretary of state antony blinken (10), blinken and defense secretary lloyd (10), ukrainian officials (8), russian forces (7), blinken said (7)
---

---
It's 1 p.m. in Kyiv. Here's what you need to know

Russian forces continue to target civilian infrastructure in Ukraine, shelling five railway stations on Monday morning as well as causing widespread water and power outages in the eastern Luhansk region.
---

---

---

---

---
Is Russia's Army a Paper Tiger?

As Andrei Martyanov has frequently and correctly noted, the U.S. Army and its legacy officers are demonstrating remarkable incompetence in assessing the Russian military. The latest in this parade of clowns is Joel D. Rayburn, a retired Colonel and current fellow at the New American Foundation. I think Andrei would agree that Rayburn is a…
---

---
In Ukraine, despair and bloodshed in the backdrop of a somber holiday

Fighting continued as two top Biden officials traveled to Kyiv to visit the Ukrainian president. European leaders visited Ukraine weeks ago to witness firsthand evidence of atrocities committed by Russian soldiers but until Sunday, top U.S. officials had not visited the country since the invasion.
---

---

---

---

---

---
This story was constructed with the SHARI Process:
The StoryGraph Toolkit extracted URIs from the biggest story of the day from the StoryGraph service
Hypercane performed the following steps:

It accepted the list of original resource URIs from the output of the StoryGraph Toolkit, and queried the Memento Aggregator to find as many mementos as possible
For resources that were not already mementos, it submitted them to web archives with ArchiveNow
It analyzed all mementos to automatically discover the most frequent sumgrams and named entities present in the overall story
It analyzed all images in these mementos to automatically select the best image for the overall story
It then formatted the data for the story based on all of this input

Raintale took the input from Hypercane and rendered the final product with information supplied by MementoEmbed