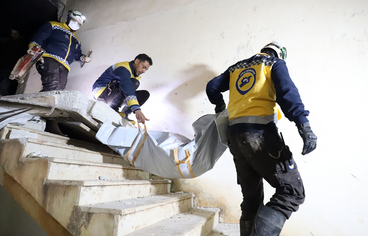 StoryGraph Biggest Story 2022-02-03 -- abu ibrahim al-hashimi al-qurayshi (10), abu ibrahim al hashimi al qurayshi (10), overnight raid by us special operations forces against suspected jihadists (8), 13 people (8), pentagon press secretary john kirby said in a (7)
---

---
Live Updates: ISIS leader killed in Syria

President Biden delivers remarks on ISIS leader Abu Ibrahim al-Hashimi al-Qurayshi's death in a US counterterrorism raid in northwest Syria. Follow here for the latest news updates.
---

---

---

---

---

---

---
The US raid comes as various parts of Syria and Iraq have seen an ISIS resurgence

The US has repeatedly targeted al Qaeda and its affiliates in northwest Syria, with the Pentagon acknowledging at least one strike in recent months may have resulted in civilian casualties. But yesterday's operation was the largest in scale since a two-hour raid killed ISIS leader Baghdadi in northwest Syria in October 2019.
---

---

---

---
This story was constructed with the SHARI Process:
The StoryGraph Toolkit extracted URIs from the biggest story of the day from the StoryGraph service
Hypercane performed the following steps:

It accepted the list of original resource URIs from the output of the StoryGraph Toolkit, and queried the Memento Aggregator to find as many mementos as possible
For resources that were not already mementos, it submitted them to web archives with ArchiveNow
It analyzed all mementos to automatically discover the most frequent sumgrams and named entities present in the overall story
It analyzed all images in these mementos to automatically select the best image for the overall story
It then formatted the data for the story based on all of this input

Raintale took the input from Hypercane and rendered the final product with information supplied by MementoEmbed