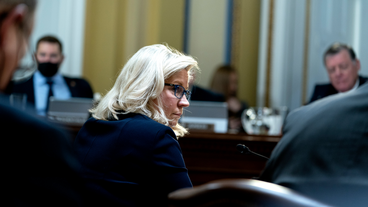 StoryGraph Biggest Story 2021-12-15 -- liz cheney (15), text messages (14), rep liz (11), investigating 6 (9), in criminal contempt (9)
---

---

---

---

---
Live updates: Mark Meadows contempt vote in House

The House voted to refer former Trump White House chief of staff Mark Meadows to the Justice Department for contempt of Congress after he halted cooperation with the Jan. 6 select committee. Follow here for the latest news.
---

---

---

---

---

---

---

---

---

---
January 6 committee reveals new Meadows text message on House floor

The House select committee investigating the January 6 attack on the US Capitol released new text messages obtained from former Trump White House chief of staff Mark Meadows that were sent to him in the days leading up to the insurrection and while the Capitol was under siege.
---

---
Opinion: Panicky texts to Mark Meadows paint a damning picture

Jill Filipovic writes the panicky text messages sent to former White House Chief of Staff Mark Meadows as rioters overtook the US Capitol suggest the extent to which many members of the GOP -- and their Fox News sympathizers -- have been deliberately misleading the American people for nearly a year, downplaying a devastating attack on the seat of American democracy.
---
This story was constructed with the SHARI Process:
The StoryGraph Toolkit extracted URIs from the biggest story of the day from the StoryGraph service
Hypercane performed the following steps:

It accepted the list of original resource URIs from the output of the StoryGraph Toolkit, and queried the Memento Aggregator to find as many mementos as possible
For resources that were not already mementos, it submitted them to web archives with ArchiveNow
It analyzed all mementos to automatically discover the most frequent sumgrams and named entities present in the overall story
It analyzed all images in these mementos to automatically select the best image for the overall story
It then formatted the data for the story based on all of this input

Raintale took the input from Hypercane and rendered the final product with information supplied by MementoEmbed