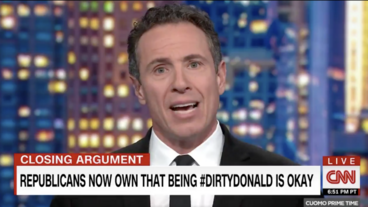 StoryGraph Biggest Story 2021-12-05 -- by new york attorney general letitia (9), helped brother (8), earlier week (8), cnn said (8), came light (8)
---

---

---

---

---

---

---
CNN fired Chris Cuomo when documents showed Cuomo used his media sources to dig up information on his brother's sexual harassment accusers.
---

---
CNN said Saturday that anchor Chris Cuomo has been "terminated" by the network, "effective immediately." The announcement came after an outside law firm was retained to review exactly how Cuomo aided his brother, former New York Gov. Andrew Cuomo.
---
"This is not how I want my time at CNN to end but I have already told you why and how I helped my brother," the anchor said in a statement.
---
This story was constructed with the SHARI Process:
The StoryGraph Toolkit extracted URIs from the biggest story of the day from the StoryGraph service
Hypercane performed the following steps:

It accepted the list of original resource URIs from the output of the StoryGraph Toolkit, and queried the Memento Aggregator to find as many mementos as possible
For resources that were not already mementos, it submitted them to web archives with ArchiveNow
It analyzed all mementos to automatically discover the most frequent sumgrams and named entities present in the overall story
It analyzed all images in these mementos to automatically select the best image for the overall story
It then formatted the data for the story based on all of this input

Raintale took the input from Hypercane and rendered the final product with information supplied by MementoEmbed