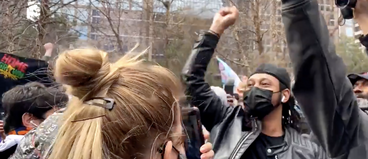 StoryGraph Biggest Story 2021-04-21 -- george floyd (31), minneapolis police officer derek chauvin (30), chauvin found guilty on all charges (18), third-degree murder (15), guilty verdict (15)
---

---

---

---

---

---

---

---

---

---

---

---

---

---
Watch as judge reads out verdict in Chauvin trial - CNN Video

Former Minneapolis Police officer Derek Chauvin has been convicted on all three charges by a jury in the Hennepin County court. The 12 jurors found him guilty of second-degree unintentional murder, third-degree murder and second-degree manslaughter in George Floyd's death in May 2020.
---
Opinion: Joe Biden delivered the Chauvin verdict speech America needed

Consider the wonder of a 78-year-old White president of the United States not only mentioning the words "systemic racism," but insisting that it be purged once and for all from American life, writes Gene Seymour. And when Biden spoke about the emotional connection he'd made with Floyd's young daughter, the unapologetic blatancy of appeal to the heartstrings somehow made him seem more sincere, more human -- and humane.
---

---

---

---

---

---

---

---

---

---

---

---

---

---

---

---

---

---

---

---

---
This story was constructed with the SHARI Process:
The StoryGraph Toolkit extracted URIs from the biggest story of the day from the StoryGraph service
Hypercane performed the following steps:

It accepted the list of original resource URIs from the output of the StoryGraph Toolkit, and queried the Memento Aggregator to find as many mementos as possible
For resources that were not already mementos, it submitted them to web archives with ArchiveNow
It analyzed all mementos to automatically discover the most frequent sumgrams and named entities present in the overall story
It analyzed all images in these mementos to automatically select the best image for the overall story
It then formatted the data for the story based on all of this input

Raintale took the input from Hypercane and rendered the final product with information supplied by MementoEmbed