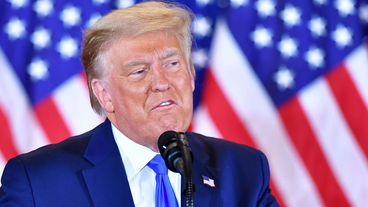 StoryGraph Biggest Story 2020-11-05 -- joe biden (26), the trump campaign filed (17), election day (15), north carolina (13), every one of those votes counted schmidt said (13)
---

---

---

---

---

---

---

---

---
Trump supporters demonstrate as votes are counted in key Arizona county

NBC News correspondent Gadi Schwartz reports from Maricopa County, Arizona, where a crowd of Trump supporters has gathered outside the county elections department building in Phoenix. Schwartz says the crowd has been chanting "Count that vote" and "Fox News sucks" to protest that network's decision to call the state for Joe Biden. Schwartz says law enforcement has been escorting poll workers to their cars at the end of their shifts to prevent harassment by the crowd.
---

---
The new European data protection law requires us to inform you of the following before you use our website: We use cookies and other technologies to customize your experience, perform analytics and...
---
The new European data protection law requires us to inform you of the following before you use our website: We use cookies and other technologies to customize your experience, perform analytics and...
---
The new European data protection law requires us to inform you of the following before you use our website: We use cookies and other technologies to customize your experience, perform analytics and...
---

---
Workers whittle down piles of uncounted ballots in key states

Four key battleground states -- Pennsylvania, Nevada, Michigan and Georgia -- still had hundreds of thousands of absentee ballots uncounted Wednesday, leaving the White House race between President Donald Trump and former Vice President Joe Biden up in the air.
---
Donald Trump and Joe Biden each need 270 electoral votes to win the presidency. Follow here for the latest updates on voting and election results.
---

---

---

---

---

---

---
Trump sues in three states, laying ground for contesting outcome

WASHINGTON — President Trump's campaign filed lawsuits Wednesday in Pennsylvania, Michigan, and Georgia, laying the groundwork for contesting battleground states as he slipped behind Democrat Joe Biden in the hunt for the 270 Electoral College votes needed to win the White House.
---

---

---

---

---

---

---

---

---

---
The new European data protection law requires us to inform you of the following before you use our website: We use cookies and other technologies to customize your experience, perform analytics and...
---

---

---

---

---
This story was constructed with the SHARI Process:
The StoryGraph Toolkit extracted URIs from the biggest story of the day from the StoryGraph service
Hypercane performed the following steps:

It accepted the list of original resource URIs from the output of the StoryGraph Toolkit, and queried the Memento Aggregator to find as many mementos as possible
For resources that were not already mementos, it submitted them to web archives with ArchiveNow
It analyzed all mementos to automatically discover the most frequent sumgrams and named entities present in the overall story
It analyzed all images in these mementos to automatically select the best image for the overall story
It then formatted the data for the story based on all of this input

Raintale took the input from Hypercane and rendered the final product with information supplied by MementoEmbed