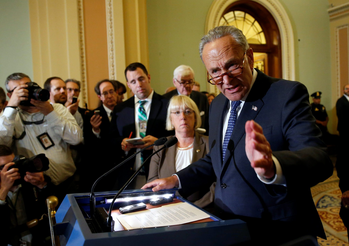 StoryGraph Biggest Story 2020-09-27 -- supreme court (39), judge amy coney barrett (39), justice ruth bader ginsburg (26), the affordable care act (16), presidential election (15)
---

---

---

---

---

---

---

---

---

---

---

---
The legacy of Ruth Bader Ginsburg is put to test with Amy Coney Barrett's nomination

During her nomination ceremony at the White House on Saturday, Judge Amy Coney Barrett said she would be "mindful" of who came before her and praised Ruth Bader Ginsburg, but how much of her legacy will she have in mind if she's confirmed to the high court? MSNBC's "American Voices" host Alicia Menendez speaks to Irin Carmon and Shana Knizhnik, co-authors of the book "Notorious RBG: The Life and Times of Ruth Bader Ginsburg", on the stark differences between the two women.
---

---

---

---

---
Trump nominates Amy Coney Barrett as Supreme Court justice

President Donald Trump on Saturday said he is nominating Amy Coney Barrett, a conservative federal appeals court judge, to succeed the late Justice Ruth Bader Ginsburg on the US Supreme Court, setting off a fierce partisan battle in the waning days of a hotly contested presidential election.
---

---

---

---

---

---

---

---

---

---

---

---

---

---

---

---
Photo of Amy Coney Barrett's Daughter Looking Up to Mom Melts Hearts

A photo taken of the youngest daughter of Judge Amy Coney Barrett looking up at her mother as President Trump announced her nomination to the Supreme Court Saturday has melted hearts around the country. The moment was captured in a screen grab by Marina Medvin: This moment of Amy Barrett's daughter looking up to her…
---

---

---

---

---

---

---

---

---
This story was constructed with the SHARI Process:
The StoryGraph Toolkit extracted URIs from the biggest story of the day from the StoryGraph service
Hypercane performed the following steps:

It accepted the list of original resource URIs from the output of the StoryGraph Toolkit, and queried the Memento Aggregator to find as many mementos as possible
For resources that were not already mementos, it submitted them to web archives with ArchiveNow
It analyzed all mementos to automatically discover the most frequent sumgrams and named entities present in the overall story
It analyzed all images in these mementos to automatically select the best image for the overall story
It then formatted the data for the story based on all of this input

Raintale took the input from Hypercane and rendered the final product with information supplied by MementoEmbed