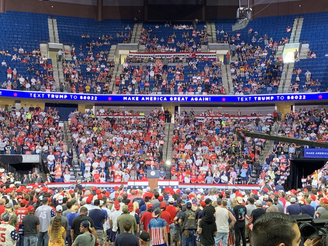 StoryGraph Biggest Story 2020-06-21 -- the trump campaign (21), rally tulsa (19), tulsa oklahoma (18), tulsa rally (17), the bok center (17)
---

---

---

---

---

---

---
Historian calls Trump Tulsa rally a 'psychological calculation'

Donald Trump's Tulsa rally witnessed Black Lives Matter protesters apparently being separated from the entrance to the rally, with at least one peaceful protester being forcibly removed. Joy Reid takes you live to the opening of the president's rally amid the pandemic with historian Jelani Cobb and MSNBC's Cal Perry.
---

---

---

---

---

---

---

---

---

---

---
Most Trump rally attendees opt not to wear face masks

Most of the people attending President Trump's Tulsa, Okla., campaign rally have opted not to wear face masks, going against guidance from public health officials and despite the recent spike in coronavirus cases in the state over the past few day
---

---
Berman to leave SDNY immediately

Manhattan U.S. attorney Geoffrey Berman announced Saturday evening that he will be leaving his post with the Southern District of New York (SDNY) "effective immediately" after U.S.
---

---

---

---

---

---

---

---

---

---

---

---

---

---
Analysis: Berman resigned knowing deputy will continue probes

Donald Trump has fired SDNY U.S. Attorney Geoffrey Berman, who was investigating the president's apparent allies, including lawyer and former New York City mayor Rudy Giuliani. Joy Reid and her panel discuss the possible motives of the president and U.S. Attorney General William Barr.
---

---
June 20 Trump rally in Tulsa, Oklahoma

As coronavirus cases rise in Oklahoma, President Trump is hosting a rally in Tulsa on Saturday that is expected to be attended by thousands. Follow here for the latest.
---
WATCH LIVE: Trump holds first campaign rally in months in Tulsa, Oklahoma

President Trump is holding his first campaign rally in months on Saturday in Tulsa, Oklahoma. The event is mired in controversy as fears of spreading the coronavirus remain. The campaign will be providing masks, although there is no requirement to wear them and Trump has said he wants to leave that…
---

---

---
This story was constructed with the SHARI Process:
The StoryGraph Toolkit extracted URIs from the biggest story of the day from the StoryGraph service
Hypercane performed the following steps:

It accepted the list of original resource URIs from the output of the StoryGraph Toolkit, and queried the Memento Aggregator to find as many mementos as possible
For resources that were not already mementos, it submitted them to web archives with ArchiveNow
It analyzed all mementos to automatically discover the most frequent sumgrams and named entities present in the overall story
It analyzed all images in these mementos to automatically select the best image for the overall story
It then formatted the data for the story based on all of this input

Raintale took the input from Hypercane and rendered the final product with information supplied by MementoEmbed