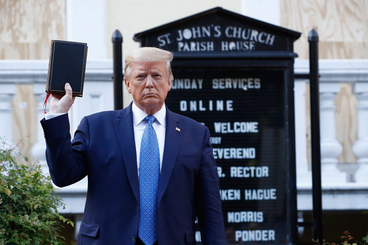 StoryGraph Biggest Story 2020-06-01 -- the death of george floyd (26), new york (17), police officers (16), law enforcement (15), los angeles (14)
---

---

---

---

---

---

---

---

---
There were largely peaceful demonstrations over the death of George Floyd on Sunday, but as the night wore on protesters clashed with the police throughout the city.
---

---

---

---
June 1 George Floyd protest news

Protests following the death of George Floyd, a black man who pleaded that he couldn't breathe while he was held down with a knee by a former Minneapolis police officer, have spread nationwide. Follow here for the latest updates.
---

---

---

---

---

---

---

---

---

---

---

---

---

---

---

---

---

---

---

---
Clashes, fires near White House as protests escalate

Protests near the White House escalated on Sunday amid the continued fallout from the killing of George Floyd, with images on social media showing multiple fires and scenes of rowdy crowds even as a citywide curfew had been imposed.
---

---

---

---

---
Trump Taken To Underground Bunker As Rioters Set Fires Outside Of The White House

The rioting hoards have once again descended upon the white house, setting fires around the area. This is reminiscent of a military coup that you'd see taking place in a third world country. https://twitter.com/Terrence_STR/status/1267312663828324353 #BREAKING #EEUU #BlackLiveMatters #Anonymous Imágenes aéreas muestran el humo en #Washington, DC, mientras los manifestantes incendian cerca de la Casa Blanca.#Washington…
---
This story was constructed with the SHARI Process:
The StoryGraph Toolkit extracted URIs from the biggest story of the day from the StoryGraph service
Hypercane performed the following steps:

It accepted the list of original resource URIs from the output of the StoryGraph Toolkit, and queried the Memento Aggregator to find as many mementos as possible
For resources that were not already mementos, it submitted them to web archives with ArchiveNow
It analyzed all mementos to automatically discover the most frequent sumgrams and named entities present in the overall story
It analyzed all images in these mementos to automatically select the best image for the overall story
It then formatted the data for the story based on all of this input

Raintale took the input from Hypercane and rendered the final product with information supplied by MementoEmbed